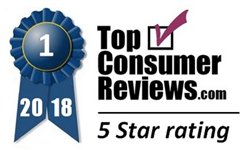 K9 Dog Training Club is the paws-down winner among Dog Training programs in 2018.
OVERLAND PARK, Kan. (PRWEB) August 07, 2018
TopConsumerReviews.com recently awarded their highest five-star rating to K9 Dog Training Club, an industry leader among Dog Training programs.
How does a dog learn what not to chew, where to go to the bathroom, or how to walk on a leash? Despite what many pet owners wish were true, dogs don't come with that knowledge built in. Most of the 60 million dog owners in the United States eventually turn to Dog Training programs to help them teach their four-legged friends the "manners" needed to have a good relationship with their human families. There are many different ways to train a dog, but many people don't have time to attend in-person classes after a long day of work or during weekends already packed with activities. For this reason, Dog Training packages available for purchase online do a good job of filling in that gap.
"If you're looking for an affordable Dog Training system that's effective while still taking a gentle approach, K9 Dog Training Club should be your first choice," according to Brian Dolezal, of TopConsumerReviews.com, LLC. "Created by Dana Gallagher, a professional dog trainer with more than a decade of experience, this program uses positive reinforcement to help your pet learn not to bark at inappropriate times, not to eliminate in the wrong place, not to jump on people or furniture, and many other common problems experienced by owners. And, if you choose the full K9 package, you'll be able to email Dana directly with any questions you may still have. Regular promotions make this training program the most affordable we've found, and a 60-day money-back guarantee means that there's no risk to giving it a try and seeing how it works for you and your pet. K9 Dog Training Club is the paws-down winner among Dog Training programs in 2018."
To find out more about K9 Dog Training Club and other providers of Dog Training, including reviews and comparison rankings, please visit the Dog Training category of TopConsumerReviews.com at https://www.topconsumerreviews.com/dogtraining/.
About K9 Dog Training Club
K9 Dog Training Club was created by Certified Professional Dog Trainer Dana Gallagher, to help owners foster lifelong relationships with their dogs. The program's methods rely on clicker training and positive reinforcement to build that rapport between dog and human, avoiding all use of fear, force, intimidation or pain.
About TopConsumerReviews.com
TopConsumerReviews.com, LLC is a leading provider of reviews and rankings for thousands of consumer products and services. From Dog Training Programs to Pet Insurance and Dog Houses, TopConsumerReviews.com delivers in-depth product evaluations in order to make purchasing decisions easier.