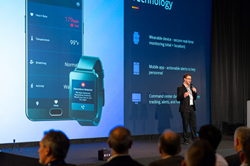 As a technologist, it's my job to design medical solutions that improve patient outcomes and quality of care
LOS ANGELES (PRWEB) February 04, 2019
Dogtown Media CEO and Co-Founder Marc Fischer will speak about the integral role of design in healthcare devices at the Medical Design & Manufacturing (MD&M) West Conference this year.
Digital healthcare technology is expected to grow 30% and surpass $25 billion in 2019 alone. As more providers, payers, and patients turn to healthcare app development for innovative solutions to longstanding obstacles, design has become more important than ever before.
Whether it is medication adherence, remote patient monitoring, or EHR interoperability, design choices play a crucial function in shaping the user experience. But creating meaningful interactions that engage end users and enhance device functionality can be challenging.
In Fischer's conference session, "Digital Design: Delighting Your Users", the CEO and UX/UI designer will discuss how to determine the best way to blend a design with users' habits and needs. He'll also delve into how design research and technology integration can drive user engagement and optimize the clinical value of a product.
MD&M West is the largest three-day MedTech conference in North America. With over 1,900 supplier showcases, it's also the most comprehensive medical manufacturing conference in the United States.
Through a curated schedule of sessions, panels, and workshops, MD&M West 2019 will cover 3D printing, robotics & automation, disruptive design, and more. This year's conference is being held from February 5th to 7th at the Anaheim Convention Center in Anaheim, California.
Dogtown Media is a mobile app development company that creates impactful mobile experiences to solve real-world problems. The company was included on Inc. Magazine's exclusive 5000 List of America's Fastest Growing Private Companies two years in a row and named by technology services research firm Clutch in the Top 100 B2B Service Providers in the world.
To date, the mobile technology studio has created over 200 mobile apps spanning industries including artificial intelligence, FinTech, IoT, and mHealth app development. Previous projects in mHealth include a cardiovascular emergency protocol app for the Minneapolis Heart Institute and Know Your Lemons®, a breast health education app from nonprofit Worldwide Breast Cancer.
To learn more about medical device design, be sure to attend Marc's session "Digital Design: Delighting Your Users" from 2 PM to 3 PM PST on February 5th in Room 210B of the Anaheim Convention Center.