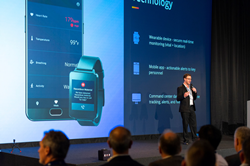 LOS ANGELES (PRWEB) February 27, 2019
Corporate research and review platform Clutch has featured Dogtown Media as a Los Angeles Leader in its 2019 Leader Awards. This kicks off another promising year for the firm which also ranked as 96th in Clutch's Top 1000 Global Service Providers for 2018.
Since 2011, Clutch has recognized companies that demonstrate an exceptional ability to deliver unparalleled quality of work to their clients. By using meticulous market research to gain unprecedented insight into various industries, the Washington, D.C.-based organization has developed a reputation for identifying the top global mobile app development companies.
Clutch employed this same data-driven approach in its evaluation of candidates for its 2019 Leader Awards. For Los Angeles alone, the research firm features 3,500 B2B companies on its review platform. By accounting for factors like work portfolio, market presence, and customer feedback, Clutch was able to elucidate the companies that consistently go above and beyond for their clients.
Above all other aspects, client feedback was integral to the evaluation process. Clutch reached out to many of these firms' clients to receive in-depth feedback. "This is an opportunity for us to publicly recognize companies whose clients have spoken highly of their providers' business acumen, services, and ability to deliver results," the organization explained.
The CEO & Co-Founder of the Los Angeles mobile app developer, Marc Fischer, commented on Dogtown Media receiving the prestigious honor, "On behalf of our team, I would like to extend my appreciation to Clutch for this award. Having been founded within the thriving Los Angeles tech scene, we are extremely grateful to have been recognized for our contribution and commitment to our clients and the community at large."
Besides being featured as a Top Global Service Provider in 2018, Dogtown Media was also named a Top UX Designer in the United States by Clutch. More recently, the firm was also recognized as a 2019 Top Mobile App Development Company by B2B research and review company GoodFirms.
Headquartered in Venice Beach, California, Dogtown Media leverages disruptive design strategies and dynamic development to deliver industry-leading apps. To date, the company has created over 200 mobile apps spanning industries including Artificial Intelligence, FinTech, IoT, and Healthcare app development.