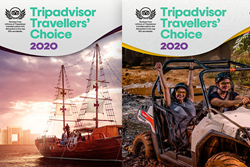 CANCUN, Mexico (PRWEB) September 17, 2020
Recently, the habitats, parks and attractions of The Dolphin Company received multiple accreditations that highlight the commitment to its employees, excellence in service and compliance with safety and health protocols against COVID-19.
Super Companies 2020, a study by Expansion magazine, placed The Dolphin Company in the 37th position in the category of 500 to 3,000 employees. It is the associates who establish scores for the companies in aspects such as organizational culture, communication, corporate social responsibility and organizational climate. As a Socially Responsible Company, The Dolphin Company has been in the top 40 of the ranking for eight consecutive years. This means that it is one of the most committed companies to the development and well-being of its employees in Mexico.
On the other hand, Tripadvisor granted the Travelers' Choice 2020 certification to two attractions of the company. Columbus Lobster Dinner Cruise, one of the activities offered by Marina Aquatours at Cancun and the only romantic tour in the destination, received the award in the Boat Tours category. Yaaman Adventure Park, in Ocho Rios, Jamaica, was recognized in the Attractions category. These awards are the result of the reviews, comments and ratings that travelers give to experiences and this is how Tripadvisor highlights "the best of the best".
The Certification in Protection and Sanitary Prevention in Tourist Facilities (CPPSIT) was granted by the Secretariat of Tourism of the State of Quintana Roo (SEDETUR). The corporate offices of the company, its dolphin habitats in Isla Mujeres and Puerto Aventuras, as well as Garrafon Park were accredited.
To obtain the CPPSIT it was necessary for The Dolphin Company to comply with certain procedures and to be evaluated by a Technical Committee conformed by authorities in tourism and health. The evaluation contemplated service and operation areas such as reception, food and beverages, pool areas, training and awareness, as well as protective equipment, among others. Therefore, guests, collaborators and species that live under the care of the company are guaranteed the implementation of good practices in terms of health, protection and safety. Within the next few weeks, more habitats and parks will be certified.
"We are very excited and proud to have received these awards that are proof of the effort and dedication of each member of this great family that is The Dolphin Company. Warmth, safety and the quality of our services are always a priority, which guarantees that those who visit us will live the Experience of a lifetime in a reliable and safe way", said Alfonso Delgado, Executive Director of Latin America for The Dolphin Company.
The Dolphin Company reaffirms its commitment to visitors, collaborators and species that live under its care, constantly striving to stay at the forefront in certifications, badges, awards, recognitions and training that favor the experience of each and every one of them.