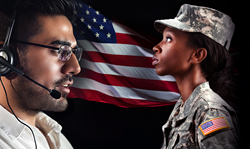 "We are honored and privileged to serve our Veteran community since 2010 and are keenly aware ofhow this program will positively impact the claims process."
VIRGINIA BEACH, Va. (PRWEB) July 27, 2020
DOMA Technologies, a cloud-based document management company, reached a historic milestone with its Veterans Benefits Administration (VBA) Private Medical Records (PMR) Program. DOMA's PMR Program is a claims development program that has saved taxpayers over $45.67 million in labor costs and positively impacted millions of Veterans. Since launching a successful Pilot initiative in 2010, the PMR Program has been helping Veterans speed up their disability compensation claims by accelerating the process of collection of Veteran medical documentation from private healthcare providers. This technology-based program streamlines the process for establishing continuity of treatment for the Veteran so they can get the care they deserve.
"We are honored and privileged to serve our Veteran community since 2010 and are keenly aware of how this program will positively impact the claims process," said DOMA's president and founder, Pat Feliciano, "We remain committed to serving our Veterans and beneficiaries with the highest level of quality and customer care."
This past May was a month of significant milestones for the PMR program. Prior to DOMA's involvement, processing a request for a Veteran's Private Medical Records to completion could take over 40 days. The PMR program continues to reduce the turn-around time to under 12 days. Recently, DOMA achieved a single-day record completion rate of 8.66 days and a record low weekly completion rate of 8.67 days. However, the most significant milestone in the PMR Program's near 10-year history was achieved as the program surpassed the 1 Million Requests threshold! This means that the PMR Program has helped over 1 million Veterans with the process to get their much-needed benefits. In celebration of the program's millionth request milestone and other remarkable accomplishments, the DOMA PMR PMO Team and VBA PMR PMO Team held an after-hours virtual Happy Hour celebration. A video overview and details about DOMA's Private Medical Records Program can be found at domaonline.com/pmr
About DOMA Technologies
DOMA Technologies (DOMA) was founded in 2000 as a Cloud-based document management company.
Today DOMA delivers comprehensive solutions using the latest tools to help organizations collaborate with enterprise data. DOMA captures and transforms information through hyper-automation. Their data and document solutions pair traditional practices like scanning with advanced cloud technology to extract, convert, and visualize the data trapped in documents. These solutions, along with DOMA's electronic content management DX Software are designed to help support businesses' digital transformation journeys.