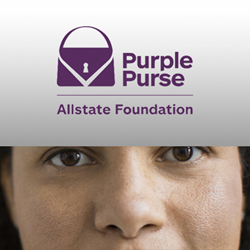 One in four women struggles with domestic violence – we think this is unacceptable, and we're asking community members to help us support the Purple Purse organization and stop domestic abuse
Stockton, CA (PRWEB) September 15, 2016
Confidence Plus Insurance Services, a family owned insurance and financial planning agency that provides coverage to families and business owners throughout the California Central Valley, is working with the Purple Purse Foundation on a unified charity drive to support victims of financial and domestic abuse.
The Purple Purse Foundation is an Allstate charitable organization committed to fighting domestic and financial abuse by advocating and raising awareness of the issue by working with other anti-abuse organizations at state, local, and national levels. To date, the Purple Purse Foundation has brought direct assistance to over 800,000 survivors of financial and domestic abuse through these victim empowerment services.
"One in four women struggles with domestic violence – we think this is unacceptable, and we're asking community members to help us support the Purple Purse organization and stop domestic abuse," says Dean Shibler owner and director of Confidence Plus Insurance Services.
Joined by his professional team, Shibler is working to generate exposure and donations for the Purple Purse charity event by reaching out to California communities over social media and email. Further plans include the production of a full page article featuring the Purple Purse charity drive in the next edition of "Our Hometown," a monthly online magazine hosted by Confidence Plus: http://www.confidenceinsuranceagency.com/OUR-HOMETOWN-MAGAZINE_39.
More than a dozen charities and nonprofits operating in California have received assistance from Confidence Plus Insurance Services over the last two years. Earlier this year, the Confidence Plus team joined the ranks of the national "Agents of Change" movement, and is now committed to assisting a new California-based charitable cause every 60 days.
Those who wish to take action and end domestic violence alongside the Purple Purse Foundation and Confidence Plus Insurance Services are invited to make a direct effort to support the cause from this page: http://www.confidenceinsuranceagency.com/Standing-Against-Domestic-Violence_25_community_cause. Details on previous charitable organizations and nonprofit foundations supported by the Confidence Plus team can be found on the firms Community Causes list: http://www.confidenceinsuranceagency.com/community-cause?page=2.
About Confidence Plus Insurance Services
Confidence Plus Insurance Services understands the importance of building a solid foundation for the future and developing long lasting customer relationships, that's why the Confidence Plus team is committed to offering every client the highest level of service possible. Each staff member of Confidence Plus Insurance is dedicated to ensuring that clients are assured, informed, and fully satisfied with all their insurance policy choices. To speak with a helpful and knowledgeable expert at Confidence Plus Insurance, browse to http://www.confidenceinsuranceagency.com or call (209) 323-7474.