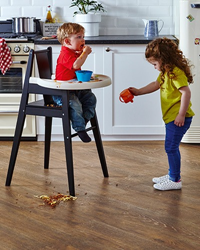 LVT provides a more seamless visual experience than traditional laminate floors, and its durability is unmatched.
HOUSTON (PRWEB) November 29, 2021
Preventing the inevitable is an idea with which homeowners are all too familiar. Time and the elements can only be kept at bay for so long, and this is especially true of household flooring. When it comes to wear and tear, almost no other surface in the home is subjected to as much harsh treatment throughout the day. Although natural materials like wood and stone remain staples of traditional flooring, there may be a more practical and long-lasting solution for homeowners of the future. Tammy Wilcox, the co-founder of Pet Floors of Texas, provides insight into how Luxury Vinyl Tile could benefit families looking for more functional flooring for modern life.

1. LVT is a Cost-Effective Alternative to Traditional Flooring
First appearing in the 1970s, Luxury Vinyl Tile has recently become recognized as a more durable and functional type of flooring for both commercial and residential interiors. LVT flooring is designed to mimic the appearance of traditional flooring and can now be produced in a wide variety of colors and styles. Since it can be easily manufactured, LVT flooring is also cheaper than hardwood floors both in the short and long term. Its physical features, however, are what make it truly unique.
2. Tougher Floors Require Less Maintenance
Unlike its hardwood counterparts, Luxury Vinyl Tile flooring is completely waterproof. Since it's naturally non-porous, LVT flooring doesn't allow liquids to soak through its surface. As a result, spilled beverages and other liquids can be wiped away without leaving lingering stains.
Since LVT floors are so tough, they can also be cleaned using bleach water and other chemical solutions. Without the added stress of a potential stain following a spilled beverage, homeowners don't have to worry about compromising the appearance of their floors.
LVT floors are also highly scratch-resistant, which can't be said about traditional wood floors. Since it's made from PVC, Luxury Vinyl Tile floors are pet-proof and can withstand more force and friction than typical flooring materials. Homeowners with children or animals, for instance, would never need to worry that their floors were being damaged simply by moving throughout the house.
3. LVT Combines Utility with Style
Although they're designed for ease and longevity, Luxury Vinyl Tile floors still retain an artistic appeal. Manufacturing technology has come a long way since the 70s, and LVT floors today can be designed to complement any home's aesthetic. Tammy Wilcox, co-owner of Pet Floors of Texas, holds Luxury Vinyl Tile in high regard. "LVT flooring remains unmatched in both appearance and quality," she says. According to her, the balance struck between style and utility is nothing short of cutting-edge.
Every homeowner prefers a different look, and today, LVT floors can be designed to accommodate any taste. With so many available styles, homeowners can find the perfect match for their home's appearance.
A Breakthrough in Practical Home Ownership
When it comes to home life, Luxury Vinyl Tile flooring opens up a whole new world of possibilities. Because it maintains its appearance so easily and can withstand the toughest of the elements, LVT eliminates the common constraints of an active household.
In the modern era, practicality is a highly valued concept. While style certainly influences how a homeowner might decorate their living room, for instance, functionality is equally if not more important. The home is a sanctuary, after all, and its features should contribute to the well-being of the owner. Luxury Vinyl Tile presents new possibilities and could forever alter the way people imagine life in the home.
As a family-owned company, Pet Floors of Texas has provided stylish, durable flooring for the greater Houston community since 2003. For nearly twenty years, the company has combined high-quality materials with tasteful styles to create premium floors that can withstand physical stress from pets, kids, and more. For additional information, contact Pet Floors of Texas at (713) 728-7630 or email them at info@petfloors.com.