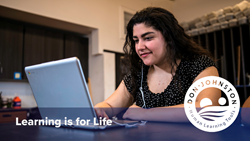 By integrating directly with Google for Education, our tools become a natural extension of the learning process.
VOLO, Ill. (PRWEB) November 06, 2018
Don Johnston Incorporated, a developer of human learning tools for grades K-12 and higher ed, announced today that it was named a Google for Education Premier Technology Partner. Don Johnston was chosen as a partner based on the company's reputation for building core accessible learning technologies and integrating across several Google for Education products, including Google Classroom, Google Forms, and Google Chrome.
School districts are required to provide equitable access to learning for all students, and increasingly they are turning to technology as a means of closing the achievement gap. Students using Don Johnston's learning tools in Google Classroom environments get a personalized literacy toolbox that helps them access grade-level curriculum content. Through direct integration with Google Classroom, instructional technology specialists can now more easily extend the core functionality of Google for Education tools to address the diverse learning needs of students.
Nearly two million students and teachers utilize Don Johnston's learning tools, which include Co:Writer, Quizbot, and Snap&Read. Educators rely on these tools to lift the literacy and language barriers students face—so they can better understand what students read and how they effectively express themselves through writing.
"By integrating directly with Google for Education, our tools become a natural extension of the learning process," said Don Johnston's President Ruth Ziolkowski. "We find that through our district-wide licenses, a wider range of students see that they can do more than they ever thought was possible." This is the concept behind Universal Design for Learning—that having core learning tools in place benefits the widest range of learners, including those with specific challenges like dyslexia or students who are learning English as a new language.
"Building on top of Google Chrome and leveraging Google for Education tools has allowed us to support students where they do most of their reading, writing, and even quizzing" said Kevin Johnston, Director of R&D for the company. "One example is Quizbot, where we utilize Google Forms and Google Classroom to help educators manage and score quizzes that we automatically generate." Quizbot is the company's latest release that uses patent pending technology to automatically create a quiz on any online content.
For more information on how Don Johnston's Human Learning Tools can benefit your school or district, visit their website.
Hear from a teacher and her 3rd grade class using Snap&Read on Chromebooks here.
About Don Johnston Incorporated
Don Johnston is a developer and innovator of human learning tools that help educators unlock the potential of students across many varied learning styles.
Snap&Read is a personalized toolkit of reading tools for Google Chrome that help students read with better comprehension. It features Dynamic Text Leveling, translation, read aloud, PDF annotation, study tools, a picture-supported dictionary, readability analyzer, bibliographer, and data collection.
Co:Writer is a writing support toolkit for struggling writers and English Language Learners. It adds word prediction and speech recognition wherever students type. New language supports help ELLs as they write in English or translate speech from their native language.
Quizbot is the an automatic quiz generator for Google and Google Forms. One click makes a quiz from any text or PDF. The quizzes are fully integrated into Google Forms where educators edit them, add questions, assign to students, and collect data.