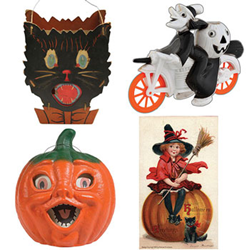 CLEVELAND (PRWEB) October 31, 2019
The jack-o-lanterns, witches on broomsticks, and orange decorations found at Halloween seem to be 20th-century creations. While Halloween is an ancient holiday that has changed significantly in the last 200 years, collectors started to become serious about collecting Halloween-related items in the late 1970s. Kovels' antiques and collectibles experts list some of the top categories of Halloween collectibles.
Decorations: Vintage Halloween decorations in good condition are difficult to find because they were usually made of paper, or pulp paper that was easily torn or destroyed. Check condition and provenance before buying. Dennison Manufacturing Co., an American company started in 1844, created Halloween party decorations, including crepe paper and cut-outs from 1909 to the 1940s. They remain collectible today.
Masks: It was believed that ghosts came back to the earthly world on Halloween. To avoid being recognized by ghosts, people would wear masks when they left their homes after dark so that the ghosts would mistake them for fellow spirits. Plastic masks from the 1950s and 1960s such as Spider-Man, He-Man, Mickey and Minnie Mouse, devils, nurses, tigers and fancy ladies are nostalgic and can now be used as unique decorations. The spot where the band was attached to the mask often got ripped from on-and-off usage. Perfect condition is worth finding.
Noisemakers: Halloween noisemakers probably originated in Germany and became popular in this country around the 1920s. Early noisemakers were made of wood and made a ratcheting sound when spun. By the 1950s, noisemakers were made of tin, came in all shapes and sizes, and featured colorful Halloween graphics. A 1921, lithographed paper-over-cardboard, 5 3/4-in. horn recently sold on eBay for $391.52. The graphics were vibrant and featured a devil, witches, black cats and bats on a yellow background.
Motion- or Voice-Activated Figures: The decorations that light up or emit scary sounds and music are popular. Today, they usually feature a skeleton or ghoul trapped in a "cage" and moaning when unsuspecting trick-or-treaters walk up. Life-sized pumpkin men, witches, vampires, black cats – even just body parts like crawly hands – also can be found in any degree of "fun scary." Startle neighbors now – and save for later.
Plastic "stuff": Colorful 1950s and '60s candy containers, figures, and jack-o-lanterns are inexpensive and easy to find. Look for hard plastic holiday-themed candy containers made by the E. Rosen Co. of Rhode Island, also known as Rosbro Plastics and the School House Candy Co. The candy containers are no longer made, but they're charming and plentiful. Keep an eye out for contemporary plastic decorations with good design. Enjoy the candy – and keep the containers.
Remember to save the paper or plastic masks, costumes, treat bags, and dolls as low-priced future collectibles to enjoy each October. Check out our Kovels' Halloween board on Pinterest and watch Terry Kovel discuss her favorite Halloween collectibles on YouTube. Photos pictured are courtesy of Hartzell's, Hake's, and Jeffrey S. Evans auction galleries, and Ruby Lane.
About Kovels.com
Kovels.com, created by Terry Kovel and her daughter, Kim Kovel, provides collectors and researchers with up-to-date and accurate information on antiques and collectibles. The company was founded in 1953 by Terry Kovel and her late husband, Ralph. Since then, the Kovels have written some of America's most popular books and articles about antiques, including the best-selling annual Kovels' Antiques & Collectibles Price Guide. The website, Kovels.com, online since 1998, offers readers more than a million prices, auction reports, buyers' and identification guides, and a marks dictionary. It also includes a free weekly email, Kovels Komments, that gives readers a bird's-eye view of the market through the latest news, readers' questions and answers, and much more.
Contact Information:
Liz Lillis
216.752.2252
Pr(at)kovels(dot)com