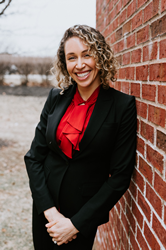 "Beauty is more than just skin deep, and it exists within each and every one of us. We all have the ability to choose confidence, enact real change, and feel completely beautiful. I look forward to embarking upon this journey with you."
DUBLIN, Ohio (PRWEB) July 15, 2019
Donaldson Plastic Surgery & Aesthetic Solutions, a leader in the field of cosmetic surgery, is pleased to welcome Dr. Michelle R. Sieffert, M.D. to its team of skilled medical professionals.
Dr. Sieffert specializes in cosmetic and reconstructive surgery of the face, breast, and body. She received her medical degree at the University of Arizona College of Medicine and completed her integrated plastic surgery residency at Wright State University's Boonshoft School of Medicine. She will be joining the practice on August 1, 2019 from the Wright State University's Division of Plastic and Reconstructive Surgery. She has earned recognition from her peers and mentors for her commitment to improving her patients' self esteem and quality of life.
Dr. Sieffert does not believe in a "one-size-fits-all" approach to patient care, and strongly believes in the power of education to help people make informed decisions about their surgical and cosmetic care. She aims to walk with each patient through their surgical journey as a team - educating them about the changes occurring in their bodies, addressing their specific concerns and desires, discussing their available options, and designing a plan that is tailored to their specific needs.
Dr. Sieffert will be providing comprehensive cosmetic and reconstructive surgical care for the Columbus community at a variety of locations. She specifically focuses on facial rejuvenation, hair restoration, breast surgery, body contouring, breast reconstruction, skin cancer removal/reconstruction, and trauma reconstruction. With the addition of Dr. Sieffert, the practice will begin accepting insurance for those reconstructive procedures she performs.
Donaldson Plastic Surgery & Aesthetic Solutions invites you to visit their website at donaldsonplasticsurgery.com or call them at 614-442-7610 to schedule your personal consultation with plastic surgeon Dr. Michelle Sieffert.
Donaldson Plastic Surgery & Aesthetic Solutions is a medical practice that offers patients advanced cosmetic procedures, as well as non-surgical treatments, in a welcoming environment. The 10 year old practice is led by Dr. Jeffrey H. Donaldson, a board-certified plastic surgeon who has completed specialty and subspecialty training from leading institutions across the nation, and Dr. Michelle Sieffert, a highly-regarded surgeon in the field of cosmetic and reconstructive surgery of the face, breast and body. The practice performs facial rejuvenation procedures, breast augmentation, body contouring, reconstructive surgery, and more.