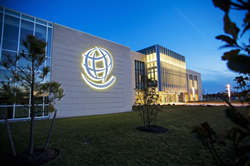 The ILC seeks to educate students, the community and visitors to Virginia Beach about culture, medicine, geography, and leadership.
VIRGINIA BEACH, Va. (PRWEB) February 24, 2021
Through a gift of $1 million from late donor and local humanitarian, Anthony L. Burgess, Operation Smile has been provided with the means to create the Anthony L. and Hideko S. Burgess Interactive Learning Center (ILC) at its global headquarters in Virginia Beach, Virginia.
Anthony "Tony" Burgess was a hard-working man who endeavored to give back to others and preserve the memory of his wife, Hideko, with a bequest at his passing. Tony researched charities in which education and children's development were a priority. Upon meeting the team at Operation Smile and learning about the plans for their Interactive Learning Center, Tony decided to make Operation Smile his charitable beneficiary.
"The bequest from Mr. Burgess is a full-circle love story," said Kathy Magee, Co-Founder and President of Operation Smile. "Mr. Burgess came into the organization as a monthly donor and, through our planned giving program, established a living legacy with the Interactive Learning Center. He made a generous decision to complete the project in honor of his wife and their 55-year marriage, knowing that the ILC will foster learning, education and cultural understanding for generations to come."
The ILC will serve as a "Window to the World," allowing visitors to take a journey through the medical mission process and learn about patients and families that Operation Smile serves. The ILC seeks to educate students, the community and visitors to Virginia Beach about culture, medicine, geography, and leadership. With empathy and compassion at the heart of the exhibit, participants will better understand the challenges that patients and their families overcome on their paths toward brighter futures through cleft surgery and comprehensive care.
Mr. Burgess' donation will help to build an immersive experience in which visitors will experience the realities of living in a country with limited access to food, water and medical care. As a military veteran with time spent abroad and a wife from Japan, Operation Smile's international medical missions resonated with Tony.
"I think in the big picture, he came to know he could trust us and have confidence in us," explained Fred Facka, the Director of Planned Giving for Operation Smile. "His realization was, I believe, that he found the vehicle he was looking for."
After returning home from his time in the military to Chesapeake, Virginia, Anthony spent the majority of his career working at the railroad, supporting his family, and saving his money where he could.
"I think we are all privileged to be a witness to a man who transcended himself to the highest level of human fulfillment, becoming a humanitarian," said Facka. "And, in his case from living a humble life."
The Interactive Learning Center at Operation Smile's Global Headquarters will offer interactive exhibits that tell compelling stories of the lives of children living with cleft conditions and the volunteers who provide medical care. Operation Smile aims to provide an experience that is optimistic and encourages both reflection and action through the center, which is expected to safely open to the public later in the year in accordance to local COVID-19 regulations.
The ILC will honor Tony and his wife, Hideko, and hopes to inspire future volunteers and humanitarians.
About Operation Smile
Operation Smile revolutionized cleft surgery globally in 1982. With nearly four decades of experience as one of the largest surgical volunteer-based nonprofits, Operation Smile staff, its private-public partnerships and thousands of volunteers have improved the health and dignity of patients with cleft conditions, helping them to better breathe, eat, speak and live lives of greater quality and confidence. While one cleft surgery can bring immediate transformation to a child's life in as little as 45 minutes, Operation Smile is committed to providing patients with health that lasts—being there to offer patients additional surgeries, dentistry, psychological services, speech therapy and other essential cleft treatments. Its training and education programs elevate local surgical standards and entire health systems to aid safe surgery and strengthen a global network to reach more people earlier in their lives. You can learn more about its transformative and healing work by visiting https://www.operationsmile.org or by following @operationsmile on social media.