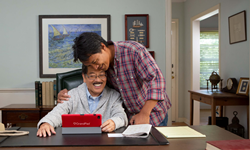 It's vital that we find ways to reduce social isolation by connecting with and honoring the super seniors in our lives, and GrandPad makes it easy to do so with secure and easy technology that was built for elderly loved ones.
MINNEAPOLIS (PRWEB) June 01, 2022
Father's Day and the start of the summer travel season are upon us, but inflation and rising costs on everything from gas to hotel rooms to rental cars and airline tickets is causing consumers to rethink or modify travel plans. According to a recent survey, 69% of people are modifying travel plans and 48% are canceling their plans. Fortunately, GrandPad is offering discounted pricing on its purpose-built tablet for people over the age of 75, making it easy and safe to celebrate dad or grandpa remotely, or to simply stay connected over the summer months.
"There's nothing better than celebrating the ones we love in person, but when that's not possible, technology can bridge the gap and allow families to enjoy special occasions and everyday moments," said Scott Lien, co-founder and CEO of GrandPad. "Especially as we approach Father's Day, it's vital that we find ways to reduce social isolation by connecting with and honoring the super seniors in our lives, and GrandPad makes it easy to do so with secure and easy technology that was built for elderly loved ones."
Act now to save $100. Through June 19, families who shop for Father's Day at GrandPad.net or by calling 1-888-904-4723 can receive $100 off a new, annual GrandPad subscription and a second hands-free charging cradle at no cost.
10 ways to celebrate Dad on Father's Day
As Father's Day approaches, consider the following creative ways to celebrate dad or grandpa with technology. Whether you plan to celebrate in person or virtually, these techy touches will put a smile on his face.

Bookmark dad's favorite content. Whether it's an often-visited website, historical content, or do-it-yourself YouTube channels, give dad easy access to content he loves.
Enjoy a virtual picnic via video call. Spend lunch together one on one or include the entire family over Zoom. If you're traveling, video call dad while visiting a few hometown places of interest, such as local parks, trails, or favorite hangouts from his youth.
Create a "dad highlights" reel. Ask family members to upload photos and videos to the GrandPad tablet so dad can add voice comments. These memories will be captured for years to come, so the whole family can enjoy them via GrandPad's private family photo stream.
Stream dad's favorite genres of music and hometown radio. Listen along with dad from anywhere to GrandPad Radio. Use the streaming radio app to bookmark local radio stations and sports stations so dad can cheer on his favorite sports teams.
Share a virtual meal together. Surprise dad with a meal delivery from a favorite restaurant and make it a party using multi-party Zoom.
Play "Dad Trivia" with the family. Collect facts and favorite anecdotes from dad and host a family Zoom call to see who remembers the most about dad's life.
Reconnect dad with an old friend. Reach out to dad's siblings and friends, and (if approved) add them as contacts to his GrandPad circle of trust. Schedule a surprise video call with a few old friends so dad can reconnect and reminisce with some friendly faces.
Story time with grandpa. If able, ask Grandpa to read a bedtime story to the little ones via video call or to share stories from when he was their age. Or simply use this as a time when kids can share details of their daily lives with grandpa.
Create a binge-worthy playlist of videos. Create a playlist of favorite videos and links to activities like church services for dad to easily access and enjoy.
Share the in-between moments. Take action shots and candid video clips of family members enjoying life's everyday moments and post them in the private family photo stream. Dad will feel like he's there "in the moment" with loved ones.
The purpose-built GrandPad tablet that was born from one family's challenges in trying to stay connected with their aging parents is now being used to connect more than 1.4 million people – including seniors with their families, friends, and caregivers – in over 120 countries. As COVID, rising gas prices, and time constraints continue to make travel difficult, GrandPad makes it easy for families to celebrate together every day with a proven, affordable tablet and service model, plus special Father's Day savings.
To learn more about GrandPad and to take advantage of special Father's Day pricing, visit GrandPad.net.
About GrandPad
Based in Minneapolis, GrandPad is a digital health company that develops engagement solutions to improve the health and well-being of older adults by reconnecting them to families, friends, and caregivers through technology that is safe, reliable, and easy to use. The GrandPad purpose-built tablet for people over the age of 75 — the first mobile device of its kind — addresses usability, security, and connectivity issues that are often roadblocks for integrating remote monitoring and telehealth into professional and familial caregiving settings. The company's secure cloud platform with built-in LTE and web applications allows care teams and family members to engage remotely with older adults without depending on WiFi connectivity. GrandPad enables a variety of interactions, including video calls, sharing essential care-related emails and messages, and conducting multi-party video care conferences between family members and a patient's continuum of caregivers. For professional caregivers, GrandPad offers connected device capabilities that support enhanced telehealth and remote monitoring services provided by a growing number of in-home healthcare organizations. To learn more, visit GrandPad.net or connect with us on LinkedIn, Facebook, and Twitter @GrandPad_social.
Media contact: Barbara Tabor, APR 651.230.9192 barbara@taborpr.com