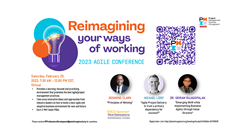 CHICAGO (PRWEB) February 16, 2023
Register here to attend 2023 Virtual Agile Conference: Reimagining Your Ways of Working
Why attend the 2023 Virtual Agile Conference: Reimagining Your Ways of Working?

Obtain strategies for cultivating a winning mindset
Grow your knowledge of Agile concepts and business practices
Learn how to efficiently and effectively deliver a successful agile transformation
Gain insights to build a more agile and adaptive business environment
Earn up to 5 PMI PDUs
Attend from anywhere
Attend the 2023 Virtual Agile Conference: Reimagining Your Ways of Working
Former NFL player Desmond Clark has taken his leadership skills from on the field to off the field. In his Principles of Winning presentation, he discusses his early life struggles and personal experiences that shaped the unbreakable principles and foundation to develop a life of opportunity while creating opportunities for others through effective leadership. Desmond will share how to implement and utilize the principles for yourself and those you lead.
Michael Liddy, Global Chapter Platforms Lead at PMI, will deliver his presentation, Agile Project Delivery: Is trust a primary dependency for success? He will discuss the impact of trust and accountability between project and product development teams on successful project delivery. He will also explore the many facets of how project and product team leaders can cultivate and sustain trust through the project lifecycle.
Dr. Sriram Rajagopalan, President of Agile Training Champions, will present Emerging WoW While Implementing Business Agility Through Value Streams. He will focus on four critical elements of implementing business agility along with the emergent ways of working at the product and team levels. He will also discuss how agile transformations involve organizational transformation and how to navigate common challenges teams face.
Register here to attend 2023 Virtual Agile Conference: Reimagining Your Ways of Working
The PMI Chicagoland chapter extends their appreciation to the event sponsor:
Northwestern University School of Professional Studies
Northwestern University School of Professional Studies offers a variety of project management courses that meet the professional education needs of today's project managers, including those seeking professional development units (PDUs) and education hours for certification or recertification. Students will learn from industry expert practicing project managers the best practices to manage predictive (waterfall), hybrid (Disciplined Agile), or agile projects.
The PMI Chicagoland Chapter provides the opportunity to network with other Project Management professionals and practitioners in a diverse range of industries in the Chicago metropolitan area to share project experiences, effective project management techniques and tools, and valuable lessons learned are among the many benefits.