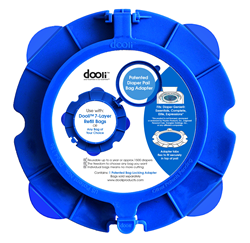 "Our goal was to offer our customers the freedom of choice and to simplify the process of changing refill bags."
New York, New York (PRWEB) May 04, 2017
Dooli Products, Inc. has relaunched with a line of patented bag adapters and 7-layer refill bags to fit select Diaper Genie® and Litter Genie®* pails eight months after canceling their Kickstarter campaign.
Dooli™ is now solving the problem of the inability to choose any bag in select diaper, litter and pet pails. With Dooli™, any bag can be used, including their perfect fit laboratory tested 7-layer bags.
"After canceling our Kickstarter campaign to redesign the Dooli™ Pet Waste Pail, we noticed a lot of people were interested in our bag adapters and 7-layer refill bags," said Alison Diamond, Vice President of Dooli Products, Inc. "We immediately began working on bringing these products to market."
The new Dooli™ patented diaper pail bag adapters are compatible with the Diaper Genie® Complete, Diaper Genie® Elite, Diaper Genie® Essentials and Diaper Genie® Expressions. Their patented litter pail bag adapters are compatible with the Litter Genie®, Litter Genie® Plus, and Pet Genie™. Each adapter is made to be reused for up to a year or more of refill bag changes. The laboratory tested 7-layer waste bags are designed to help minimize escaping odor, can hold up to 30 newborn (Stage 1) diapers per bag, and come in packs of 25 (750 diapers) or 50 (1500 diapers). Each bag is sized to be the perfect fit for each pail, and individual bags eliminate the need for cutting between bags.
"Dooli™ makes the process of changing bags in your diaper or litter pail easier than ever before," Diamond said. "Our goal was to offer our customers the freedom of choice and to simplify the process of changing refill bags."
Dooli™ patented bag adapters and 7-layer refill bags are available for pre-order on their website and are due to ship in September 2017. Customers who pre-order can receive products for 15% off, plus free shipping on orders over $45. To learn more, visit http://www.dooliproducts.com.
ABOUT DOOLI
Dooli Products, Inc. is a family company focused on utilizing patents for improved waste management devices. Founded in 2015, Dooli Products, Inc. is headed by David Stravitz, a consumer and industrial product designer and inventor, along with his daughter, Alison Diamond. With a background in waste disposal product development, Stravitz saw the need for a more effective and environmentally friendly refill bag system that caters to parents and pets owners.
*These products are not licensed, sponsored or endorsed by Playtex Products, Inc., Edgewell Personal Care, Energizer Holdings, Inc., or any affiliated companies.