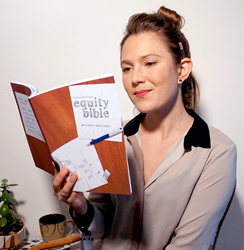 "The only way to recover from the impact of this pandemic - socially and economically - is to empower a new wave of diverse entrepreneurs and innovation through education."
BLOOMINGTON, Ind. (PRWEB) April 28, 2020
Today Doriot, a new educational company focused on empowering the next wave of entrepreneurs and investors, announced its first online offering to the public, a free copy of The First-Time Founder's Equity Bible by the company's founder Gerry Hays, JD. A 5x founder, professor, and investor, Hays provides valuable insight into a world previously accessible only to the elite of the elite: startup investing. Available on the company's website, the book provides first-time founders and investors with an introduction to concepts and vocabulary needed to build and fund a successful company.
According to the 2019 Global Startup Ecosystem Report from Startup Genome, the global startup economy is worth nearly $3 trillion, representing a rise of 20 percent in two years. Even with the impact of Covid-19, Hays believes a new, more diverse startup economy will still see massive growth: "The world needs a crash course in entrepreneurial finance and venture capital, because it's not sustainable or fair for a tiny fraction of the population to reap the financial rewards of this lucrative industry," he said. "The only way to recover from the impact of this pandemic - socially and economically - is to empower a new wave of diverse entrepreneurs and innovation through education."
Recent data shows that searches for education were up by nearly 1200% in the last month (Forbes), indicating that people around the world are using this time to better themselves through education.
For the past sixteen years, Hays has taught finance and entrepreneurship classes at top-ranking Indiana University's Kelley School of Business, whose online MBA program ranked #1 by US News & World Report in 2020. Often used as a textbook, the Equity Bible has been read by thousands of college students, both at IU and other universities across the country. VisionTech Partners' executive director Ben Pidgeon describes it as, "The best 90 pages any entrepreneur or investor could read. It's a must-read for anyone who is serious about starting their own company or investing in startups."
Through education, community, and technology, Hays and his team are creating the future that the founder of venture capital, Georges Doriot, envisioned. A Harvard professor, Doriot saw the flaws in the system he taught about and, in 1946, formed the American Research and Development Corporation (ARD)—the world's first publicly owned venture capital firm, which led to the emergence of today's venture capital ecosystem. Having experienced firsthand this same, flawed system, Hays is working to create educational solutions to democratize the world of venture capital. "We know we're going to get out of this period of uncertainty, and when we do, we must agree to not only level the playing field, but expand it. We must make a massive shift from consumerism to entrepreneurism, not only to bounce back from the economic shakeup we're experiencing, but to survive and thrive on this planet together."
The First-Time Founder's Equity Bible is now available for free download at Doriot.com and includes an optional subscription to receive weekly startup investing insights and interactive scenarios, the first of many free resources to prepare people to become sophisticated investors.
###
ABOUT DORIOT
In a world where unicorns exist and incubators hatch startups, the elite play a risky, but lucrative game: startup investing. The vast majority of people are left out, lacking the access and education to play and win. Cue: Doriot.
Named after the father of venture capital, Doriot is a new educational company focused on empowering the next wave of entrepreneurs and investors with innovative, educational tools that make startup investing simple. With Doriot, anyone can be a sophisticated investor. Led by 5x founder, investor, and award-winning Kelley School of Business professor Gerry Hays, Doriot's mission is to democratize venture capital and create a future in which everyone can participate in the $3 trillion startup economy, no prerequisites needed.