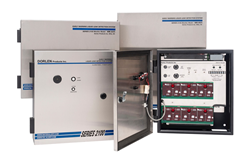 Water Alert® products are designed with commercial and industrial applications in mind – from telecom rooms and data centers to record vaults and any unattended areas in your building.
MILWAUKEE (PRWEB) May 25, 2021
Dorlen Products has been manufacturing surface water leak detection equipment since 1975. In October 2021, four of their six Water Alert® monitors will be re-introduced with an all-new enclosure design and PC board.
The original enclosure is painted steel, while the new design will feature a steel cabinet with a stainless steel door, making the monitors more corrosion-resistant. More than a surface-level makeover, the monitors will also get a new circuit board as part of the redesign.
Product names will be updated when the new design is released: Water Alert® monitor models WM-6(T), WM-12(T), WM-20(T) and WM-40(T) will be replaced by WMX6, WMX12, WMX20 and WMX40.
One thing that isn't changing: Dorlen's commitment to manufacturing their products entirely in the USA. Water Alert® monitor circuit boards will continue to be manufactured in Waukesha, Wisconsin, with circuit board assembly completed in-house at Dorlen (headquartered in Milwaukee).
Water Alert® monitors will also continue to be compatible with all building management and automation systems, including Cisco, Honeywell, Johnson Controls, Schneider Electric, United Technologies and many others.
Additional Water Alert® monitor features:

Function as both monitor and power supply
Test capability for connected water detectors
Compatible with all Standard Series Water Alert® detectors
Internal battery backup in case of power failure
Easy installation, all hardware and instructions included
5-year warranty
About Dorlen Products and Water Alert® Dorlen Products is dedicated to selling the highest-quality, lowest-maintenance leak sensors available. Water Alert® products are designed with commercial and industrial applications in mind – from telecom rooms and data centers to record vaults and any unattended areas in your building. Water Alert® leak sensing systems are rugged, yet sensitive enough to detect a thin film of water without false activations. For more information, please visit: wateralert.com