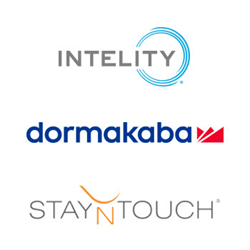 In our webinar we will discuss why hoteliers should be aware of the software that goes into their mobile access systems. An app that is designed and built with security in mind will be more resilient against attacks.
MONTREAL (PRWEB) May 16, 2017
Today's guests want a mobile hospitality experience. Do you have an effective strategy for mobile implementation? Would you like to learn more about emerging mobile applications? On May 31st at 1pmET (10amPT) three of the hospitality industry's leading mobile solutions companies will host a webinar that will show operators how to plan and execute a mobile strategy that delivers a positive guest experience and creates greater operating efficiency. Click here to register for the "Leveraging the Power of Mobility" webinar.
"Leveraging the Power of Mobility: The New way to Satisfy Guests" will be hosted by executives from dormakaba, StayNTouch and Intelity. In the webinar, hoteliers will learn:
1. How to offer guest convenience, access and an enhanced guest experience via Mobile
2. Why offering guests a choice in service is essential to increasing guest satisfaction
3. How to stay ahead of the technology curve with the right mobile solutions.
Joey Yanire, dormakaba Assistant Vice-President Mobile Access, said, "In our webinar we will discuss why hoteliers should be aware of the software that goes into their mobile access systems. An app that is designed and built with security in mind will be more resilient against attacks. Lock vendors that provide a development toolkit and credential delivery platform must also subscribe to secure design principles." dormakaba manufactures and provides installation and service for the Saflok™ and Ilco™ brands of electronic door locks.
"Keeping up with mobile advancements isn't just a trend that hotels should pay attention to," said Jos Schaap, StayNTouch CEO. "It's an absolute necessity that operators learn to leverage in today's mobile-driven economy. I look forward to helping hoteliers find the right balance in this webinar along with my friends at dormakaba and Intelity." Click here for the StayNTouch blog.
Intelity Chief Sales & Marketing Officer Gregg Hopkins said, "We are excited to participate in this webinar with StayNTouch and dormakaba as experts in hotel mobile technology. Education is the first step toward making sound investments for the future, and this webinar will be a strong resource for hoteliers who want to look ahead in order to accommodate staff and guests' digital needs." Click here for the Intelity blog.
What: Leveraging the Power of Mobility Webinar
When: May 31st 1pmET (10amPT)
How: Click here to register
About dormakaba
dormakaba is one of the top three companies in the global market for access and security solutions. With strong brands such as Dorma and Kaba in our portfolio, we are a single source for products, solutions, and services related to doors and secure access to buildings and rooms. With around 16,000 employees and numerous cooperation partners, we are active in over 130 countries. dormakaba is headquartered in Rümlang (Zurich/Switzerland) and generates an annual turnover of over CHF 2 billion. Click here for information on electronic door locks from dormakaba. SIX Swiss Exchange: DOKA (formerly: KABN / KABNE) Further information at http://www.dormakaba.com
About StayNTouch
StayNTouch is a "Software as a Service" hotel property management systems (PMS) company focused on developing solutions that help hotels raise service levels, drive revenues, reduce costs, and ultimately change the way hotels can captivate their guests. Developed with mobility in mind, the pioneering platform enables hotels to create long lasting relationships with their guests by delivering personalized service levels that today's guests require. StayNTouch operates on tablets and smartphones, empowering hotel employees to go above and beyond in exceeding guest expectations at every touch point. Powering over 75,000 rooms globally, our game-changing solution frees hotels from the constraints of legacy or premise systems, dramatically streamlines operations, increases margins, and revolutionizes how front-line staff connect with guests. StayNTouch is a trusted partner to many of the most forward thinking hotels, resorts, casinos and chains in the industry, including Yotel, Zoku Amsterdam, Valencia Hotels, The Freehand Hotels, Modus Hotels and the Fontainebleau Miami Beach. For more information, visit http://www.stayntouch.com.
About Intelity
Intelity, headquartered in Orlando, Florida, is the creator of the world's first and most widely used integrated guest services platform. With certified integrations to all major hotel back-end management systems (POS, PMS, Ticketing, Spa and Room Controls), Intelity's platform is a centralized property-automation system that delivers concierge-level services, guest request tracking and fulfillment, business-intelligence analytics, marketing/messaging capabilities, and a full content management system. Since beginning operations in 2007, the Inc. 5000 company has gained a reputation as a leader in hospitality technology with installations across six continents, including most major brands and many celebrated independent properties. Intelity recently received Best Mobile App in Hospitality from Travel Weekly's Magellan Awards and World's Leading Hotel Brand App from the World Travel Awards. For more information, please call 1-888-RevPAR-1 (1-888-738-7271) or visit http://www.intelitycorp.com