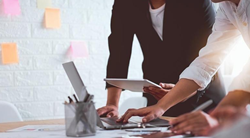 This expansion of dotCMS's headless commerce functionality is the natural result of our hybrid headless, NoCode, and best-of-breed philosophy.
MIAMI (PRWEB) March 04, 2020
dotCMS, the leading open-source Java CMS, has extended its headless CMS capabilities with headless commerce-focused features.
As consumers embrace more channels and devices, from single page applications to augmented reality apps to in-store digital signage, commerce brands are feeling the pressure to expand their shopping experience beyond the traditional website and mobile application.
To meet the needs of the eCommerce brands leveraging dotCMS's headless CMS technology, dotCMS has expanded its headless commerce capabilities, which are built upon three foundational principles.

NoCode & API-first Content Management: With Edit Mode Anywhere, NoCode digital marketing tools, and marketer-friendly personalization tools and content targeting.
API-first Commerce Engine: With GraphQL support and access to a growing library of REST APIs for any commerce capability, building a dynamic commerce experience has never been easier.
AI-powered Search, Merchandising & Personalization: Leverage Unbxd's natural language processing and Machine Learning (ML) algorithms to power predictive site search, and also to monitor your shoppers' behavior, offering personalized interactions in real-time.
With dotCMS' API-first Content Management System acting as the glue code, developers can now leverage cutting-edge and lightweight technology to innovate in a headless commerce environment. As a result, developers now have direct access to all orders within dotCMS without the need of an external application, whether they are created in a webstore, a mobile app, at a POS, or on an IoT device.
Furthermore, marketers gain even more freedom in the same context thanks to dotCMS's NoCode features.
"There is a shift in focus happening in the commerce space right now, away from simplistic, product and service-driven experiences, and towards holistic, hyper-personalized customer experiences," said Stefan Schinkel, Chief Sales Officer at dotCMS.
"This expansion of dotCMS's headless commerce functionality is the natural result of our hybrid headless, NoCode, and best-of-breed philosophy. dotCMS is doing what it does best, contemporary web content management, while our esteemed partners Unbxd and commercetools seamlessly level-up the dotCMS experience," Schinkel continued.
About dotCMS
dotCMS is a leading, open source content and customer experience management platform for companies that want innovation and performance driving their websites and other content-driven applications. Extensible and massively scalable, both small and large organizations can rapidly deliver personalized and engaging content across browsers, mobile devices, channels, second screens and endpoints -- all from a single system.
Founded in 2003, dotCMS is a privately owned US company with offices in Miami, Florida; Boston, Massachusetts and San Jose, Costa Rica. With a global network of certified development partners and an active open source community, dotCMS has generated more than a half-million downloads and thousands of implementations and integration projects worldwide. Notable dotCMS customers include: Telus, Standard & Poors, Hospital Corporation of America, Royal Bank of Canada, DirecTV, Thomson Reuters, China Mobile, Aon, and DriveTest Ontario.