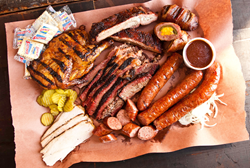 Our Longevity Bonus is just one way we honor the folks who work so hard every day to make Authentic Central Texas BBQ and serve our wonderful guests.
AUSTIN, Texas (PRWEB) May 27, 2021
Southside Market & Barbeque (4 Locations in Central Texas) announced a first-of-its-kind in the barbeque industry employee benefit, focusing on celebrating the growth of current employees and attracting & retaining the best talent. Southside Market's newly released Longevity Bonus doubles hourly employees' current hourly rates, up to 40 hours/week for 1 year with the additional monies paid out over time as a bonus which effectively doubles pay earned for the first year hours worked.
Southside Market, which originated in downtown Elgin, TX, in 1882, is the oldest BBQ joint in Texas selling authentic Central Texas barbeque for meat-lovers who value quality. Owned by third-generation Pitmaster Bryan Bracewell and his wife Rachel, this iconic restaurant brand has grown over the past 139 years from a one-man butcher shop to its status as a must-visit destination for those seeking the finest sausage and smoked meats that Texas has to offer. With the original restaurant still operating in Elgin, a second location later added in Bastrop, a third opened in Austin in late 2019 and the newest location opened in Hutto in 2020. Southside Market has earned its reputation as a legendary Texas BBQ joint and secured its place in Texas' rich barbecue lore. Southside Market is known for its quality sausages and barbeque, their top notch customer service and company culture.
"As we continue down the path of growing Southside and offering more opportunities to our team, we always look to develop creative ways to keep the awesome folks we currently have on board and also attract the best talent in Central Texas and beyond. Our Longevity Bonus is just one way we honor the folks who work so hard every day to make Authentic Central Texas BBQ and serve our wonderful guests. I believe this is a great incentive to attract and keep team members who want a chance to grow and develop into tomorrow's future leaders of Southside," said Bryan Bracewell.
In addition to the Longevity Bonus, Southside Market also released a new Holiday Bonus which awards bonus pay to all employees that work in operations on traditional family holidays such as Mother's Day, Memorial Day, Father's Day, July 4th and Labor Day. Southside Market closes it's its restaurants on holidays such as Thanksgiving, Christmas and Easter Sunday so that employees can enjoy these holidays with their families.
In addition to competitive wages, Southside Market also offers employees a free meal during each shift, an employee discount on all regular menu items, 401 (k) with employer matching, an employee assistance program and an employee referral program.
Candidates interested in available positions can learn more and apply online at https://www.southsidemarket.com/careers
About Southside Market & Barbeque
Southside Market's history in the barbeque industry dates back to 1882 when original founder William Moon began selling meat in Elgin by the wagonload. At the end of each day, he'd take whatever was left and make smoked sausage and barbeque to avoid spoilage, as in that era there was no refrigeration. Four years later, he opened up a storefront on what was then known as South Street, and the legend began. Bracewell's grandfather, who called on the store as a salesman at the time, decided to buy the business in 1968, and the family has carried on the rich tradition of exceptional sausage and barbeque following the same authentic methods of smoking low and slow over real Texas post oak wood, since 1882.
Each Southside Market & Barbeque location serves the same beloved menu of BBQ-by-the-half pound, including the famous Original Beef Sausage, USDA Prime brisket, chopped brisket, jalapeño cheddar sausage, chicken, pork steaks, ribs, and more. Sandwiches, salads, a loaded chopped brisket baked potato, and sides, including coleslaw, beans, corn on the cob, potato salad, and mac & cheese, are available on the lunch and dinner menu. Larger family-style meals are also available and the restaurant offers a variety of catering packages. Guests are invited to end their meal with a sweet treat from a selection of homemade cobblers, banana pudding, or a hand-dipped ice cream cone. Guests can order online, over the phone or come and dine in at any Southside location.
For more information on Southside Market & Barbeque and available positions, please visit https://www.southsidemarket.com/ and follow along on social media at @southsidebbq.