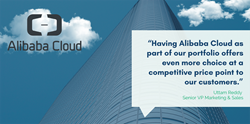 "Having Alibaba Cloud as part of our portfolio offers even more choice at a competitive price point for customers exploring multi-cloud in alternative regions."
AUSTIN, Texas (PRWEB) August 29, 2018
Significance of Alibaba Cloud Agreement
As a cloud brokerage firm,  DoubleHorn  offers a variety of options for customers looking to migrate their business to the cloud. DoubleHorn's  agreement with Alibaba Cloud now brings its total number of cloud provider agreements to six. https://go.doublehorn.com/partners/technology-partners/
"Having Alibaba Cloud as part of our portfolio offers even more choice at a competitive price point for customers exploring multi-cloud in alternative regions," said Uttam Reddy, DoubleHorn's Senior Vice President of Marketing and Sales.
Partnering with Alibaba Cloud helps  DoubleHorn  go  forward  with future business opportunities.  
Alibaba's  Rapid Growth  in  Cloud Technology 
Alibaba Cloud is the fourth largest cloud provider in the world  behind AWS, Azure, and Google Cloud as shown on the LIFTR Index and is growing at an astronomical rate of 113% year-over-year in revenue. http://bit.ly/2JV9kUQ
Not only has Alibaba Cloud expanded rapidly into the Asia-Pacific region but the cloud company has now extended its reach into Europe and North America.
Alibaba Cloud now has a US-based multi-cloud broker to leverage and grow its US market share, especially for US companies with a large compute storage or data presence in Australia, New Zealand and the pacific rim.
For DoubleHorn, this  agreement establishes an early presence as a US company partner  with Alibaba Cloud.
DoubleHorn's Alibaba Cloud Report
For more information on Alibaba Cloud, read Liftr's comprehensive report highlighting opportunities, services, market share, revenue growth and more on the growing cloud giant. https://go.doublehorn.com/resources/reports/
"We are excited to be an early partner with Alibaba Cloud in North America. As addressed in our recent report on Alibaba Cloud, they are showing rapid growth in a  market full  of opportunity,"  said Drew Bixby, Director of Technical Services at  DoubleHorn. 
As a leading cloud brokerage firm,  DoubleHorn  prides itself on offering choices for businesses looking to compare different providers. Companies  looking to migrate to the cloud can visit  DoubleHorn.com.   https://go.doublehorn.com/Alibaba-1
DoubleHorn  is  proud  to  now add Alibaba Cloud  to the list of cloud providers and services it offers. 
About  DoubleHorn: 
Austin, Texas-based  DoubleHorn  is a leading Cloud solutions provider and services broker founded in 2005.  DoubleHorn  is dedicated to helping companies navigate technology transformations using their Cloud brokerage and management platform. Learn more about  DoubleHorn's  services on their  website. 
Media Contact: 
DoubleHorn 
512-637-5200 
media(at)doublehorn.con