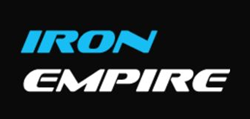 The 24- hour, seven-days-a-week access for members is an added plus-allowing flexibility that can fit everyone's schedule.
Dover, NH (PRWEB) January 05, 2016
Newly opened gym, Iron Empire, in Dover, NH, was recently featured on EliteFTS, the strength training industry's number one online resource, making it a hot spot for bodybuilders and powerlifters throughout the Seacoast.
"We focus on methods, experience, atmosphere and the right equipment for Powerlifting, Bodybuilding and Athletics. There is nothing like this in the Tri-City and Seacoast areas," says John Rudolf, who co- owns the gym with his wife Jen.
The Rudolfs recently moved to the Seacoast, and, despite the numerous workout facilities in the greater Dover area, they found themselves searching for a fitness facility that didn't exist. "The gyms here left a lot to be desired," said Rudolf. "We saw a wide-open market for a premium facility."
Iron Empire is centrally located on Chestnut Street in Dover, NH. In the first three months, the gym attracted over 100 new members. Open Membership is a big part of what Iron Empire has to offer, appealing to those members who already know what they are doing. The gym has attracted a membership that is passionate about fitness, adding to the great energy in the atmosphere. The 24- hour, seven-days-a-week access for members is an added plus-allowing flexibility that can fit everyone's schedule.
"We also have a variety of clients, both men and women who choose Personal Training at our gym," said Rudolf. "Some clients are just beginning their journey and others have been doing this for years. They all come to us with a passion for training and we show them the path to reach goals they never thought were possible."
Each of the gym's trainers has extensive experience in their respective fields. From the large pool of trainer applicants, Iron Empire carefully selected a Bodybuilding Specialist, a Strength and Powerlifting Coach and a Sports Performance Coach to round out their staff. "We work together to determine which specialist should work with each client," Rudolf said. "Our clients have different goals, just like we have different types of training, and so we do what is best for them."
Though this is their first time opening a gym, John and Jen Rudolf have experience in the powerlifting world. Jen has done multiple bodybuilding competitions and powerlifting competitions and John has focused and competed in powerlifting. Recognizing their clients' desire to compete, Iron Empire hosted multiple events including a "Hero WOD" in November, honoring a fallen Marine, and a Powerlifting event in early December, which sold-out.
The Rudolfs invested time and money to create a space that would inspire and challenge athletes. They invested in premier equipment, specific to Powerlifting, Bodybuilding, conditioning and cross-training and to the design of the space itself. "Jen and I worked well together to balance out our overall theme," said Rudolf. "We also found a great local artist, Emily Sodders, who hand-painted the 2 murals spanning
the interior--one of a Champion Bodybuilder and Powerlifter, Franco Columbu, and another of a sprinter. The color and imagery give the atmosphere a Fire and Ice type of theme. The art works well with our floor plan, serving as a metaphor for Aerobic and Anaerobic activity."
Iron Empire plans to host more competitions in 2016, including the New Hampshire Strongman Championships in February, and also to continue offering its Saturday morning powerlifting seminars hosted by Strength and Powerlifting Coach Anthony Oliveira, who recently won Best Overall Lifter at the SPF New England Power Challenge.
Want to learn more about Iron Empire? They will be hosting an open house January 11-22, allowing prospective members to train free for 12 days. Hours and more details can be seen by visiting the Iron Empire open house page.
About Iron Empire
Iron Empire is a hybrid gym open 24-hours, seven-days-a-week in the great city of Dover, NH. In addition to general membership, their on-site trainers were selected for their expertise in Powerlifting, Bodybuilding, Athletic Training and Conditioning. Iron Empire's goal is to inspire members with the newest concepts to keep a competitive edge with leading technology and equipment to address the needs of novice and expert alike. They feature top-of-the-line brands Westside Barbell, Life Fitness, EliteFTS and Rogue. From novice to aspiring athlete, they offer various styles of training from one-on- one sessions to small group training. Their goal is to provide the atmosphere and motivation to inspire members to reach further – to attain personal fitness goals.
For more information on Iron Empire visit http://www.ironempire.net or follow them in social feeds like Facebook, Instagram and Youtube.