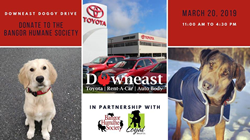 BREWER, Maine (PRWEB) March 05, 2019
Pet owners and car shoppers in the Bangor area can lend a hand in support of the Bangor Humane Society at the Second Annual Downeast Doggy Drive hosted by Downeast Toyota in partnership with Loyal Biscuit. Scheduled for March 20 from 11 a.m. to 4:30 p.m. at the dealership, this charity event will collect donations for the Bangor Humane Society that will help the organization support local animals in search of a home. Pets are welcome at this event!
Individuals who wish to attend this pet-friendly event at the dealership, located at 652 Wilson St. Brewer, Maine, are encouraged to bring a donation to the event. Preferred donations, per the Bangor Humane Society include – new and gently-used towels, sheets, toys, blankets, wet canned food, soft treats, peanut butter, squeeze cheese, bleach, paper towels and cleaning supplies. Interested individuals can learn more about possible donations by visiting the Bangor Humane Society website, http://www.bangorhumane.org. Attendees who donate at this event will be entered into a raffle to win a full-vehicle detailing package from Downeast Toyota or a gift basket from Loyal Biscuit.
More than just a charity fundraiser for the Bangor Humane Society, the Downeast Doggy Drive promises plenty of fun for pet owners and their furry friends. Attractions for pets and their families will include doggy massages, a treat prize wheel, a brush and spritz makeover, a puppy goodie bag, a fun ball pit and a photo booth that is fun for pets and pet owners.
Bangor-area residents and pet owners who would like to learn more about how Downeast Toyota and Loyal Biscuit will support the Bangor Humane Society at the Second Annual Downeast Doggy Drive can learn more online at http://www.downeasttoyota.com or on the Downeast Toyota Facebook page. Individuals who prefer a more personal interaction can contact a dealership representative directly by calling 207-991-0380.