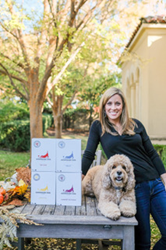 Downward Dog Wine is hand harvested and uses single vineyard grapes. Betsy Hendershot
(PRWEB) November 29, 2018
TULSA, Okla.\ When Betsy Hendershot moved to Oklahoma, her sights were set on earning a degree in Finance from the University of Tulsa. Now, 20 years later she finds herself embedded in the Tulsa community - living in midtown, wife to business owner Bryan Hendershot, mother of two young children, active philanthropist for Tulsa Ballet and now the proud founder of Oklahoma's fastest growing boxed wine company, Downward Dog Wine.
With her active lifestyle in mind, Betsy was determined to create a product that was suited to her as well as the lifestyle of those around her. Betsy's desire to break the stigma of boxed wines was the driving force behind Downward Dog Wine. Boxed wine is not only environmentally friendly, it's more convenient to transport and once opened, the wine stays fresh for weeks unlike bottled wine. "There are fewer limitations to boxed wines," explains Betsy. "The consumer can use it for a single serving without feeling wasteful or use it to serve a party of twenty. Its versatility works with our lifestyles and most importantly you will like what you are drinking."
Unlike many boxed wines, Downward Dog Wine is hand harvested and uses single vineyard grapes. "We spent over a year looking for the right wine," says Betsy. "If I was going to put my name behind a product I had to love it." With expectations set high, Betsy and her team of tasters (that included anyone from experts to family members and friends who enjoy wine on a less serious level) found the perfect grapes in the cool, crisp air of the Pacific Northwest - Washington's award-winning Columbia Valley. The wine is offered in 7 different varieties: a Red Blend, a White Blend, Rosé, Chardonnay, Riesling, Merlot and Cabernet Sauvignon. Priced at $17 to $19 per box, Downward Dog Wine can bring fun to any occasion while not breaking your budget.
With her label inspiration, four-year-old Cock-a-poo Lincoln, by her side, Betsy hopes that her wine will reach others like her. Fun loving, multi-tasking, environmentally conscious, active people who enjoy a glass of wine (or two) at the end of the day. Whether alone, or decompressing with friends, family or co-workers, Downward Dog Wine is the perfect wine selection for any occasion.
Downward Dog Wines are available in stores where wine is sold throughout Oklahoma and have recently launched into Kansas. For more information visit downwarddogwine.com. Downward Dog Wine is distributed by Boardwalk Distribution. Can't find Downward Dog Wine near you? Email info@dd.wine to request information or distribution to your local liquor store today.