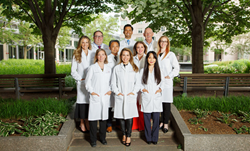 Proper comprehensive planning and detailed and careful execution in conjunction with adequate healing times will obtain results which will exceed anyone's expectations. - Dr. Guzman
BOSTON (PRWEB) November 06, 2020
Dental Partners of Boston (DPB) is the winner of Top Dentists™ 2020 for many dental specialties, affirming its place as a leading dental practice in Boston.
All the dentists at Dental Partners of Boston have won Boston magazine's Top Dentists™ 2020 award. The award is an annual list that Boston magazine releases on the field's best dentists. The publication selected thirteen DPB dentists for the award, highlighting the practice's commitment to excellence.
Sergio A. Guzman D.M.D, M.S.D, the Managing Member of Dental Partners of Boston, said that success comes down to the synergy of DPB's team approach.
"Our consistent results are based on all of us working together with the same goal in mind. The success of our group practice is only possible by the addition of all the individual successes of our doctors and team."
When asked what set DPB apart from other dental practices in the greater Boston area, Dr. Guzman pointed to the convenience of its two locations and its team of highly experienced dentists who worked together to deliver a superior patient experience.
DPB has spent more than fifty years carefully building its relationships with members of the local community. The constant interaction between patients and doctors is fundamental to its approach.
Speaking on behalf of the team, Dr. Guzman said, "We are honored to be recognized by our peers, and it is a great incentive to all of us to always reach for the best outcome. It pushes us to be true to our commitment to excellence in dental care."
When looking for great dentists, DPB has some advice for patients. Dr. Guzman says that patients should visit practices that commit to excellence in all aspects of their work. Essential considerations include a multi-disciplinary team, advanced experience, high proficiency, exceptional customer service, and convenient locations and hours.
Dr. Guzman would like patients to understand that, "Fast dentistry most times cannot generate amazing results. He adds that, "Proper comprehensive planning and detailed and careful execution in conjunction with adequate healing times will obtain results which will exceed anyone's expectations." Fast dentistry often forces compromises that lead to poorer outcomes.
Dental Partners of Boston currently offers various cosmetic dental treatments, including porcelain veneers, cosmetic dental bonding, dental implants, Invisalign® invisible braces, all-porcelain dental crowns, tooth-colored fillings, and Zoom! Teeth Whitening. DPB also offers a range of general and preventive dental services, plus specialty dental care, including LANAP treatment for periodontal disease.
Click the link to see each dentist at DPB that won Boston magazine's Top Dentists™ 2020.
For more information on DPB, its team, and the services it offers, please visit https://www.dentalpartnersofboston.com/. For their Prudential Center office, call (617) 259-1100, or for their Charles River office, call (617) 523-4555. Interested parties can visit in-person at Prudential Center 800 Boylston Street., 2nd Floor, Boston, MA 02199 or the office at Charles River 50 Staniford Street #303, Boston, MA 02114.