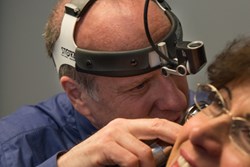 Cleveland, OH (PRWEB) September 30, 2013
Otolaryngologist Dr. Bert Brown MD is pleased to announce his new website at drbertbrown.com. As a prominent Ear, Nose and Throat physician in the Cleveland area, Dr. Brown is frequently questions by patients and aspiring young doctors and audiologists. The website is a way for Dr. Brown to share his ideas, tips and advice with both groups.
Patients that are experiencing hearing loss or tinnitus can tap into Dr. Bert Brown's many years of audiology experience. As the founder of Physician Hearing Centers, Dr. Brown has many years of patient care experience diagnosing hearing losses and recommending appropriate solutions. The new website allows him to disseminate that expertise to a broader audience in the form of video. Dr. Brown has recorded answers to many of the common questions that ENTs and audiologists are asked about hearing healthcare.
Dr. Bert Brown is also the inventor of the Sound Experience Room™ and will be using his website to share information about the innovative design behind SER™. When a hearing loss requires hearing aids, the audiologist or ENT fitting the instrument tries to simulated real world conditions as best as possible to properly program the aid. Simulating the many sounds of busy streets and restaurants can be difficult indoors. The Sound Experience Room™ uses high definition television and a high fidelity sound system, to immerse the hearing aid patient in real-world settings and program the hearing instrument accordingly. The result is a hearing aid better adjusted for the actual environments in which the owner will wear it.
Dr. Brown is very excited about the launch of the website and is eager to get feedback from the community about topics he should cover in future videos and blog posts. In connection with the website launch, Dr. Brown has created a presence on all the major social properties – Facebook, Twitter, YouTube – LinkedIn and Pinterest - so that patients, audiologists and ENTs in the Cleveland area can find and connect with him easily.
About Dr. Bert Brown, MD (Otolaryngologist)
Dr. Bert Brown devotes his career to serving people with hearing impairment. He has been a practicing Ear, Nose, and Throat physician for over 25 years and is the developer of the SER™ Fitting Room. Dr. Brown studied medicine at University of Cincinnati College of Medicine and completed his residency in Otolaryngology at the University of Pittsburgh Medical Center.
Patients can make an appointment with Dr. Brown through Physician Hearing Centers.
Contact:
Dr. Bert Brown, MD
Physician Hearing Centers
6770 Mayfield Road, Suite 210
Cleveland, Ohio 44124
(440) 550-4179
Physician Hearing Centers
640 East Aurora Road
Macedonia, Ohio 44056
(330) 400-3916