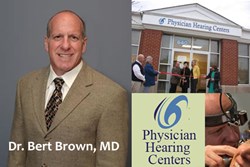 Willoughby, OH (PRWEB) October 02, 2013
Dr. Bert Brown has recently created a new website at bertbrownmd.com for his Willoughby OH-based Ear, Nose, and Throat (ENT) practice. Complete with links to social media profiles, up-to-date information, and biographies for Dr. Bert Brown.
Dr. Brown explains that forming the new site supports his dedication to the continuing development of his practice. He adds his hope that his patients will use his site as a reliable resource for ENT (ear, nose, and throat) issues, concerns, and problems. With the ever changing medical terminology the site will be a place to learn about the newest services and technical developments in Otolaryngology.
Dr. Bert Brown's practice at Physician Hearing Centers includes services and products ranging from hearing evaluations, hearing aids, balance disorders, and ear, nose, throat problems. Dr. Brown says that the reward in medicine is really getting to know people, being friendly with them, figuring out what's wrong with them and getting them better. He needs no greater reward than that. To cultivate deeper relationships with his patients, the website has links to Facebook, Google+, Twitter, and Pinterest so patients can interact with Dr. Brown on a more personal level than most Doctors allow. This puts him front and center and Dr. Bert Brown encourages patients to connect with him and ask questions on any of these social sites.
Dr. Brown wants his patients and staff to know that they can easily reach out and ask questions. The old school notion that patients should not have access to the Doctor is not one that Dr. Brown subscribes to. One of his goals in medicine is to be accessible to all patients. Bert Brown invites folks to visit the Dr. Bert Brown YouTube channel and watch the videos (currently 13) where the passion that he has for his patients and his ENT practice in Cleveland in immediately evident.
In addition to being a practicing ENT physician, Dr. Brown also invented The Sound Experience Room™ - a special room that houses a high-def. TV and sound system designed to engage potential hearing aid patients with a real-world hearing environment. The technology allows Dr. Brown and his staff to serve patients on a level not previously available. Patients have the opportunity to try out the hearing aids before ever leaving the office and to experience "real life" surroundings in the Sound Experience Room™.
About Dr. Bert Brown, MD (ENT)
Dr. Bert Brown devotes his career to serving people with hearing impairment. He has been a practicing Ear, Nose, and Throat physician for over 25 years and is the developer of the SER™ Fitting Room. Dr. Brown studied medicine at University of Cincinnati College of Medicine and completed his residency in Otolaryngology at the University of Pittsburgh Medical Center.
Patients can make an appointment with Dr. Brown through Physician Hearing Centers.
Contact:
Dr. Bert Brown, MD
http://bertbrownmd.com
Physician Hearing Centers
6770 Mayfield Road, Suite 210
Cleveland, Ohio 44124
(440) 550-4179
Physician Hearing Centers
640 East Aurora Road
Macedonia, Ohio 44056
(330) 400-3916