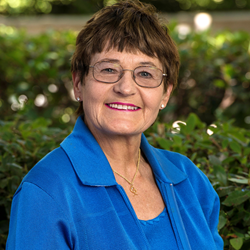 San Francisco, CA (PRWEB) November 26, 2014
Dr. Dolores Gallagher-Thompson received her degree in clinical psychology and adult development and aging from the University of Southern California in 1979, and has worked in the field ever since as a practicing geropsychologist, conducting research, teaching, and providing clinical care to patients and families. She has been an NIH-funded clinical researcher for the past 20 years and is most noted for her empirical studies on the efficacy of different types of psychosocial interventions to reduce stress and improve the psychological status of family caregivers of older adults with Alzheimer's disease or other forms of dementia. She recently completed the first efficacy trial of psychosocial interventions with Chinese-American caregivers, and has pilot work in progress with Farsi-speaking Persian caregivers in the San Francisco Bay area. Her work on the development and evaluation of psychoeducational "coping classes" with caregivers has been translated into Spanish, Chinese, Japanese, and Persian.
Dr. Gallagher-Thompson has authored over 200 papers in major journals in the field and has co-edited the critically well-received second edition of "Ethnicity and the Dementias" (with Gwen Yeo, senior editor) and the book "Innovative Interventions to Reduce Caregiver Distress" (David Coon, senior editor). She is currently co-editor in chief of the journal Clinical Gerontologist, and has recently been the senior editor of a comprehensive new volume entitled "Handbook of Behavioral and Cognitive Therapies with Older Adults." She also serves in several volunteer positions with the Alzheimer's Association in Northern California and is currently developing online intervention programs for caregivers of older persons with significant memory loss. She is a Professor of Research in the Department of Psychiatry and Behavioral Sciences at Stanford University School of Medicine, and Director of the Stanford Geriatric Education Center.
She joins other world-leading experts in health and senior care who are on GeriJoy's advisory board, such as Jennie Chin Hansen, CEO of the American Geriatrics Society, and Esther Dyson, renowned angel investor and philanthropist.
About GeriJoy
GeriJoy (http://gerijoy.com) makes dementia care more cost-effective and more joyful. GeriJoy's specially-trained remote caregivers offer 24x7 companionship, supervision, and clinical support for older adults through tablet-based avatars, improving care, increasing peace of mind, and lowering overall cost of care – which totaled $214 billion last year just for Alzheimer's care in the US. The avatars appear as adorable talking pets, allowing GeriJoy to build joyful friendships with people who are otherwise difficult to engage due to cognitive, memory, or behavioral issues. GeriJoy is a member of the Aging2.0 Academy and has won numerous accolades for innovation from organizations like AARP, TEDMED, and the US Senate. See GeriJoy in action at http://gerijoy.com/video#CustomerStories or contact GeriJoy at info(at)gerijoy(dot)com.