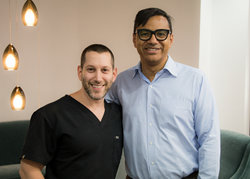 "By fusing the practices together we are able to offer our patients the opportunity to recover and prepare for cosmetic procedures in an environment specifically designed for optimal results and healing," Dr. Emer said.
Beverly Hills, CA (PRWEB) May 12, 2017
Dr. Emer has joined forces with INFUSIO®, an innovative European treatment center offering cutting edge integrative therapies to achieve optimal health. INFUSIO® was founded by Philip Battiade, a British born Naturopath with 2 decades of experience in cellular therapies and integrative medicine. INFUSIO® is among medicine's new benchmark for foundational medicine for optimal health and specializes in pre-and post-surgical care. Dr. Emer and INFUSIO® use comprehensive approaches to healing, using a combination of innovative techniques and cutting-edge technologies to create the ultimate patient experience. The collaboration between a cosmetic skin expert and an integrative medical institute is the first-of-its-kind, progressive, all-inclusive pairing unlike anything Beverly Hills has ever seen.
"By fusing the practices together we are able to offer our patients the opportunity to recover and prepare for cosmetic procedures in an environment specifically designed for optimal results and healing," Dr. Emer said.  Intravenous (IV) therapy before and after hi definition liposuction to restore necessary vitamins and minerals lost during surgery, as well as the in-house hyperbaric chamber for improved oxygenation of blood cells, are examples of the advanced technologies the fusion of services will provide patients. "This partnership will change the paradigm in which cosmetic surgery is performed," Philip Battiade comments, "Every good physician uses quality tools to perform their work. While a skilled surgeon may perform a perfect procedure, if the material he is working on, namely our body, is in a sub-optimal condition, this will be reflected in his results. To achieve an optimal health state my concept takes a foundational approach on our patient's health which is based on my Five Steps to Health. We will provide services to optimize the body from the inside out prior and post your cosmetic procedure. With that we are augmenting outcomes and honor the artwork of skilled surgeons like Dr. Emer."
The new high end and lux space puts the patients first while creating a one stop shop for all their aesthetic needs. It has a "spa-like" feel and makes going to the doctor's office a sweet escape. "It's all about the patients. I want every individual that walks into the office to feel completely catered to with an experience unlike any other," said Dr. Emer. The gorgeous layout covers 2,000 square feet and features five treatment rooms designed to make each tailored, personalized session as comfortable and relaxing as possible.
In addition, Dr. Emer and INFUSIO® have a space completely dedicated to social media. A 'think tank' style media lab was designed to strategize and create digital content to promote education and consumer awareness and safety in cosmetic procedures. The setting will allow the practice to create the highest quality experiences for patients and beyond that give an inside look into the cutting edge technologies, procedures, and techniques Dr. Emer is doing on a daily basis.
On the penthouse level, patients can unwind with rejuvenating facial treatments, therapeutic massage, IV or vitamin therapy, and learn about INFUSIO®'s state of the art stem cell therapy for longevity and chronic disease such as joint pain. "The views from the penthouse are spectacular and put my patients at ease when deciding on or getting aesthetic treatments" says Dr. Emer. No expense was spared to create a comfortable place for patients to receive personal, private care from Dr. Emer and staff. Dr. Emer's meticulous detail, personalized approach to patient care, and numerous treatment options for all cosmetic conditions, give astonishing results and lifelong relationships.
To learn more about this one-of-a-kind collaborative oasis, visit https://JasonEmerMD.com/ and http://InfusioBeverlyHills.com/.
Dr. Emer on Social Media:
Facebook: @JasonEmerMD
Snapchat: @JasonEmerMD
Instagram: @JasonEmerMD
Twitter: @JasonEmerMD
Facebook: @InfusioBeverlyHills
Instagram: @infusiobeverlyhills
Twitter: @infusioBH
Visit Dr. Emer's website https://JasonEmerMD.com/ for more information on the most advanced treatments in cosmetic dermatology and body sculpting.
For Reviews: RealSelf.com & Yelp.com
Contact: Media(at)JasonEmerMD(dot)com
More Information on Dr. Jason Emer:
Dr. Jason Emer's main practice and passion are liposculpture and body sculpting/etching procedures. For obtaining the best results with the least amount of downtime and for patient safety reasons, all procedures are performed using a local fluid called "tumescent anesthesia," which allows for a comfortable surgery with little risks. Dr. Emer uses all of the advanced technologies for body contouring/etching to tailor his results to each person's concerns, no single device or type of liposuction is used. Multiple devices – such as VASERLipo®, SmartLipo®, and Body-Jet® – and techniques, such as superficial muscular etching and power-assisted fat removal, are employed during each surgery to get the ultimate results and best long-term outcomes.
After completing a preliminary medicine internship in Chicago, Illinois, at the Saint Joseph Hospital, Dr. Emer completed a two-year dermatopharmacology fellowship at The Mount Sinai Hospital in Manhattan, New York. He spent a significant amount of time conducting clinical trials on investigational treatments in cosmetic, laser and surgical dermatology. Dr. Emer's work has led to a number of medications and devices to be FDA approved for conditions such as passive wrinkles and folds of the face, dynamic movement wrinkles/lines, facial lipoatrophy, facial pigmentation/melasma, photodamage/actinic keratosis, hemangiomas/vascular birthmarks, and tattoos. Throughout his residency training, he focused the majority of his cosmetic interests in the area of body contouring/sculpting, liposuction, and fat harvesting and transfer, learning from world-renowned experts in the fields of dermatology and plastic surgery. Dr. Emer began an HIV treatment clinic where fat transfer, facial fillers, and other cosmetic and plastic surgical procedures were used to enhance facial features and address body disproportions. Dr. Emer was chief resident in his final year of dermatology residency. After finishing his residency, he moved to San Francisco, California, to further advance his training in the area of facial fillers, chemicals peels, laser and light treatments, skin cancer surgery, and plastic surgery, such as scar revision and hi definition body sculpting/etching and fat transfer.
Dr. Emer is one of a select few surgeons in the United States to perform 4D (four dimensional) body contouring/etching, in which he precisely and meticulously defines target areas to not only remove fat but also contour and define circumferentially. He uses this technique to "etch" six packs and create highly defined musculature, such as the chest, buttock, breast, and calves. With the latest advances in fat harvesting with water-assisted removal, Dr. Emer can use your body's own fat and platelet-rich plasma to contour the surrounding areas and define the underlying muscles. Harvested fat can be transferred to other areas to address concerns such facial wrinkles and lack of volume, hand veins and aging, buttock and breast size and lifting, and the muscular size and bulk of the chest, biceps, calves, shoulders, and quadriceps. Cellulite and skin tightening are also addressed with each individual case and can be improved with a combination of surgery, lasers, fat transfer, and/or external heating/suction devices to get the ultimate results in body contouring procedures.
Dr. Emer is a leading expert in cosmetic surgery and laser dermatology who utilizes the latest advancements in non-invasive treatments for anti-aging. He utilizes combination treatments to get the ultimate results and customizes treatments to the patient's skin type and long-term goals. Dr. Emer's interests include acne and traumatic scars, abnormal pigmentation, burns, and anti-aging/rejuvenation combination treatments. He personally treats all his patients to ensure the best results and doesn't delegate to other staff in most instances.
Jason Emer, MD
435 N Bedford Dr. Suite 312
Beverly Hills, CA 90210
(424) 320-0813
Media(at)JasonEmerMD(dot)com