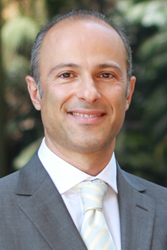 "The results from this recent study on the effectiveness of electroacupuncture are very intriguing and certainly worth considering," says Dr. Michel
Los Angeles, CA (PRWEB) August 28, 2017
Urinary incontinence, the inability to control one's urinary urges that usually results in leakage, is a common but often embarrassing condition for millions of adult American men and women. Although surgery is an effective option, many patients prefer undergoing alternative, non-surgical treatments in an attempt to correct their condition. The results of a study done in China and published recently in the Journal of the American Medical Association have revealed that electroacupuncture is one such non-surgical procedure that may offer relief that is even quicker and more consistently effective than other, more well-known incontinence procedures typically used in the United States.
"Patients frequently ask about less invasive ways to treat incontinence than surgery," says Dr. Michel. "One common treatment we recommend is pelvic floor muscle training, which strengthens the requisite muscles for the necessary grip strength to control those urges to urinate. However, the results from this recent study on the effectiveness of electroacupuncture are very intriguing and certainly worth considering."
Electroacupuncture is a type of acupuncture in which small currents of electricity are passed between acupuncture needles that have been inserted into the skin. This treatment has been found to enhance the efficacy of traditional acupuncture treatments, especially for the relief of pain. The results are encouraging, as they show a larger decrease in the amount of urine leakage over a six-month period following treatment over placebo procedures as well as fewer episodes of leakage over a given 72-hour period.
"Researchers found that this treatment provides the same effectiveness and safety that pelvic floor muscle training does," Dr. Michel says. "In fact, electroacupuncture was found to have an immediate effect whereas results from pelvic floor muscle exercises don't often manifest for 2-3 months. Furthermore, the therapy requires fewer overall treatments and a shorter duration of treatments to get these results."
Over six weeks and 18 total sessions, the patients experienced a decrease of over seven grams of leaked urine compared to that leaked by patients in the control group. For many patients, such results from a minimally invasive treatment are encouraging in their struggle to control their urinary incontinence. To learn more, including other possible treatment options, visit http://Comprehensive-Urology.com/Incontinence/
"The study was limited," Dr. Michel says, "in that there was no measure or assessment of the amount of urine leakage once treatment stopped. Yet, the results from this study indicate that electroacupuncture is indeed a viable alternative to surgery that is both safe and effective. At Comprehensive Urology, we are always looking for ways we can reduce our patients' discomfort with these and other urological issues."
Kia Michel M.D. earned his medical degree at the University of Washington School of Medicine and completed his residency at UCLA. He has also been recognized as a National Pfizer Scholar. As one of the founding members of the reputable Comprehensive Urology Medical Group, located in the Cedars-Sinai Medical Towers in Los Angeles, California, Dr. Michel treats a host of urologic diseases. One of the few urologists who is both an acclaimed vaginal reconstructive and minimally invasive surgeon, Dr. Michel is a compassionate doctor who has dedicated his career to providing state-of-the-art care for his patients with a warm, nurturing touch.
Comprehensive Urology is a renowned urological practice in Los Angeles that provides state of the art urological care in a personalized and compassionate environment. The physicians at Comprehensive Urology are board-certified urologists with specialty training in a number of different aspects of urology and provide tailored care for their patients with outstanding results.
Call them today at (310) 499-2756 or visit their website: http://www.Comprehensive-Urology.com
Comprehensive Urology
8631 W 3rd St #715e
Los Angeles, CA 90048
(310) 499-2756
CUInquiry(at)gmail(dot)com