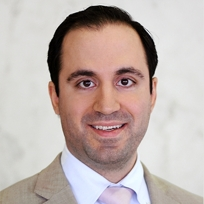 "Should a surgeon want to use a spacer graft in a procedure to correct retraction of the bottom lid, the graft should be judiciously chosen and carefully used," said Dr. Taban
Beverly Hills, CA (PRWEB) July 25, 2017
According to the American Academy of Ophthalmology(AAO), lower eyelid retraction occurs when the lower eyelid is atypically lower than its normal position of resting at the bottom border of the iris or cornea. Although there are various causes for lower eyelid retraction, it commonly happens as a result of complications or undesirable side effects from a previous eyelid surgery. This prompted double board-certified oculoplastic surgeon Dr. Mehryar "Ray" Taban to conduct a study to determine the impact, if any, of the use of spacer grafts in treating lower eyelid retraction.
"Lower eyelid retraction can be very uncomfortable, as patients often suffer from burning eyes, blurred vision, excess tears, redness, and/or dry eyes," says Dr. Taban. "Graves' disease and eye trauma are common causes for this condition, and some patients – those with lax lower eyelid skin, for example – are inherently vulnerable to eyelid retraction. In this study, however, we focused on retraction caused by a previous surgery."
When performing the initial lower eyelid surgery (blepharoplasty), the attending surgeon can use a variety of techniques and choose from many types of spacer grafts. Consequently, the treatment for any ensuing post-procedure lower eyelid retraction becomes much more complicated. In many cases, the type of spacer graft used is thought to have an impact; Dr. Taban, however, is not so sure.
"Many surgeons believe that an internal spacer graft is necessary for treating lower eyelid retraction because it could be needed to help raise the lower eyelid but I don't believe it's always necessary," says Dr. Taban. "If lower eyelid retraction happens as a result of complications from a lower blepharoplasty, it's most likely because of the surgeon's technique or failure to take into account other contributing factors that caused the need for the initial blepharoplasty. No spacer graft is more superior to another in performing this procedure."
Treatment for a lower eyelid retraction can result in a more almond-shaped eye, but achieving the desired results can be difficult if lower eyelid retraction happens because of a previous eyelid surgery. In fact, particularly severe cases sometimes cannot be properly treated. To learn more about the procedure, as well as the challenges of treating a lower eyelid retraction, visit http://TabanMD.com.
"When talking about lower eyelid retraction, oculoplastic surgery is different because of the various techniques and equipment that can be used," Dr. Taban says. "Should a surgeon want to use a spacer graft in a procedure to correct retraction of the bottom lid, the graft should be judiciously chosen and carefully used. Otherwise, the corrective surgery is much more challenging and the risks of unwanted complications soar."
Meet Dr. Taban: http://TabanMD.com/About-Oculoplastic-Surgeon/
Mehryar (Ray) Taban, MD, is a Santa Barbara and Beverly Hills, Los Angeles oculoplastic surgeon (cosmetic and reconstructive eyelid plastic surgery) who is committed to his patients' progress and results. He offers an array of reconstructive and cosmetic procedures, with a focus on the face in general and the eyes in particular. He has had extensive training and is triple board-certified by the American Society of Oculofacial Plastic Surgery (ASOPRS), American Board of Cosmetic Surgery (ABCS) and American Board of Ophthalmology (ABO). Due to Dr. Mehryar (Ray) Taban's expertise in eye plastic surgery, he is often called upon to help other physicians with their complex cases, and frequently publishes articles and lectures to physicians around the country.
For more information on Dr. Taban and his services, please visit http://www.TabanMD.com.
Dr. Mehryar (Ray) Taban, MD
9735 Wilshire Boulevard #319
Beverly Hills, CA 90212
(877) 958-9277
DrTabanInquiry (at) gmail (dot) com