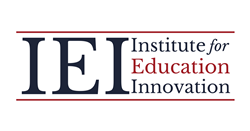 NEW YORK (PRWEB) June 16, 2022
The Institute for Education Innovation, a national school superintendent think tank that serves as the bridge between district leaders and the K-12 industry to develop solutions to the greatest challenges in K-12 education, has announced that Dr. Alex Marrero, Superintendent of Denver Public Schools, is the first recipient of its "Dr. Dwight Jones Courageous Superintendent Award" sponsored by CENTEGIX.
"Dr. Jones has devoted his career to addressing issues of equity and access in education through his roles as superintendent of one of the nation's largest school districts, a state commissioner of education, and an executive in the private sector," remarked Doug Roberts, CEO and Founder of the Institute of Education (IEI). "IEI is thrilled to name this award in Dr. Jones's honor and recognize the administrators who carry on his legacy by demonstrating the same fearlessness and integrity when standing up for their students, staff, and communities in the face of challenging circumstances."
Dr. Marrero was selected by Dr. Jones and IEI for his leadership in the Denver region. Dr. Marrero spent his early tenure meeting with the community to gain insights on what was needed to ensure greater equity and opportunities district-wide. Guided by a committee of community leaders, he transformed the input they received into a set of recommendations for the Denver Plan 2020, the district's five-year strategic plan to close achievement gaps and prepare all students for success in college and careers.
"Other superintendents have done similar work, but Dr. Marrero has shown a true commitment to not only listen to his community, but allow the community to help direct the actions that will be taken," said Dr. Jones. "While IEI has many strong educational leaders in the organization, we wanted to recognize a fairly new superintendent to demonstrate our commitment to supporting administrators regardless of how long they have been in their position."
Roberts added, "Administrators were already called upon to make difficult decisions in the best interests of their students, but with the pandemic, public health threats and political strife only added to the pressure. Dr. Marrero's peers recognized his success in leading a district through a crisis, and many have modeled his community efforts in their own districts."
According to Dr. Marrero, the Courageous Superintendent Award is an honor he takes to heart. "To be recognized by my fellow superintendents who have overcome so many challenges in their own districts the past two years means the world to me as an educator—especially when that award is named after someone I have long admired. This acknowledgement demonstrates that we're not alone in our efforts to create the best futures for our students. By partnering with our colleagues and our communities, we can accomplish so much more together."
The award will be presented to a deserving superintendent each year at the IEI Spring Leadership Session. Educators and edtech professionals interested in joining the IEI community are invited to click here. For more information on how IEI is developing leaders in the education field, visit http://www.instituteforedinnovation.com.
About the Institute for Education Innovation
Superintendents are defenders of our children's right to a high-quality public education, and lead their teams toward effective, sustainable solutions to age-old problems. They must be at the center of discussions around when, where, and how innovation will affect teaching and learning. Many education solution providers, funders, researchers, and thought leaders are mission-driven: they do what they do to improve student outcomes. The Institute for Education Innovation bridges gaps between the individuals and organizations committed to seeing students succeed in school and life, creating a safe space for constructive problem-solving and innovative thinking. http://www.instituteforedinnovation.com.