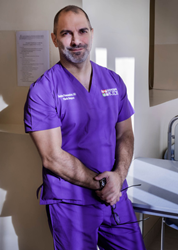 PASADENA, Calif. (PRWEB) February 07, 2020
Dr. Andre Panossian -- board member and founder of the Mending Kids annual medical mission in Armenia -- is a renowned plastic surgeon and highly-respected philanthropist who offers his medical expertise in inner cities in the USA and in remote areas throughout the world. The Mending Kids medical mission offers teaching, education, medical instruments, and resources to surgeons in Armenia and consistently expands its outreach to better the lives of others.
Dr. Andre Panossian initiated the very first Mending Kids mission to Armenia in 2015 as an independent effort. Mending Kids' Armenia mission provides reconstructive surgery at the children's hospital (Arabkir) in the capital of Yerevan. Approximately 16 to 20 complex reconstructive surgeries are performed each week during the mission on underprivileged teens and children, including:
Complex cleft lip and palate deformities
Vascular birthmark removal
Facial paralysis reconstruction
Neurofibromatosis reconstruction
Correction of congenital hand and foot deformities
Trauma and burn reconstruction
Dr. Panossian is a Harvard-trained, board-certified plastic surgeon and a first-generation Armenian-American who has a passion for international medical missions. The Armenia mission, under Dr. Panossian, has a strong educational component.
Mending Kids' advanced surgeons are board-certified by the American Board of Plastic Surgery and train local Armenian doctors on technical aspects of complex reconstructive plastic surgery, including an annual lecture given by Dr. Panossian to medical students, residents, and practicing physicians in the area. Mending Kids' surgeons maintain strong ties with local doctors and frequently review cases and perform postoperative follow-ups using telehealth technology. This educational effort is empowering local Armenian surgeons and physicians to advance their skills and better serve their patients and community.
Medical donations also provide crucial supplies and equipment, including sutures, fine instruments, drills, saws and other surgical power equipment, and magnification loupes for Armenian surgeons. Future missions are being planned with the hope of including smaller hospitals in rural locations, like Artsakh, which is on the outskirts of the country. Anyone can join as a volunteer or give donations toward the mission at mendingkids.org.
Dr. Panossian is passionate about helping others and frequently participates in medical missions providing reconstructive surgery for adults and children all over the world who have been affected by geographic isolation, natural disasters, unstable economies, devastating trauma, and birth defects. Dr. Panossian is also affiliated with Operation Smile and has been featured as a "Top Doc" in Pasadena Magazine. The doctor has served as an expert medical consultant for Grey's Anatomy, Nip/Tuck, and The Doctors. Dr. Panossian has been annually nominated as a Los Angeles "Super Doctor" since 2012.
The Los Angeles Times, "Good Morning America," KTLA-5 News, and other major media outlets have highlighted beautiful stories from patients whose lives have been positively impacted by the Armenia missions with Dr. Panossian.
Board-certified plastic surgeon Andre Panossian, MD specializes in the treatment of various medical and cosmetic conditions, including vascular birthmarks, facial paralysis, neurofibromatosis, and pediatric plastic surgery. Call 800-958-3778 for a consultation with Dr. Panossian in Los Angeles, or visit Mending Kids online to gain more information on the Armenia medical missions.