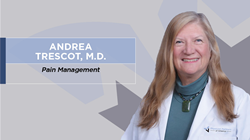 TAMPA, Fla. (PRWEB) May 13, 2020
Physician Partners of America (PPOA) is pleased to announce that renowned interventional pain management specialist, speaker, and author Andrea M. Trescot, MD, ABIPP, FIPP, CIPS, has joined the company's Orange Park, Florida, pain management practice. She began seeing patients on May 11 at the office, located at 2021 Kingsley Ave, Suite 109, Orange Park, Florida 32073.
Dr. Trescot brings vast experience and skills to PPOA. She specializes in diagnosing and treating complex pain conditions including peripheral nerve entrapment, headache and pelvic pain, and spinal disorders. Dedicated to finding the right treatment for each patient, Dr. Trescot offers vertebral augmentation, cryoneuroablation, regenerative medicine and pharmacogenetics, among many other modalities. She is also well-known for using neuromodulation to treat intractable pain, and remains chief medical officer of Stimwave, a Florida-based company that has pioneered wireless spinal cord and peripheral nerve stimulators.
Board-certified in interventional pain management, critical care, anesthesiology and addictionology, Dr. Trescot's career has spanned academia, private practice, military service, and peer education in several states. She spent 10 years at private practices throughout Florida, including the Jacksonville area. She then turned her focus to academics, becoming the pain fellowship director at the University of Florida, and then serving as director of the pain fellowship program and a professor in the Department of Anesthesiology and Pain Medicine at the University of Washington in Seattle. After that, she spent several years practicing interventional pain management in Alaska; however, she recently returned to the Jacksonville area, which she considers home.
"I was raised in Palatka, Florida, and, despite the restrictions brought on by COVID-19, I look forward to reconnecting with the people of Orange Park and Jacksonville," she says. "I'm also excited to join Physician Partners of America because of its recognition of pharmacogenetics and its expertise in interventional pain management techniques."
After earning a Bachelor of Science degree in Zoology at the University of Florida with honors, she earned her medical degree at the Medical University of South Carolina. While serving in the United States Navy, and rising to the rank of lieutenant commander, she completed her postgraduate training. This included an internship and anesthesia residency at the U.S. Naval Hospital in Bethesda, Maryland, followed by a fellowship in pediatric anesthesia at Children's Hospital National Medical Center in Washington, D.C.
"My first rotation as an anesthesiology resident was in pain medicine, and one of my first patients was a young sailor with low back pain that turned out not to be coming from his spine. I gave him an injection and the pain was gone," she recalls. "From that moment, I fell in love with pain management. The instant validation and gratification of relieving someone's pain is an amazing feeling."
Over the years, Dr. Trescot has become a sought-after lecturer, both nationally and internationally, on interventional pain management topics. She is widely published, authoring more than 150 peer-reviewed articles and textbook chapters, and is the editor and senior author of the 900-page textbook, Peripheral Nerve Entrapments – Clinical Diagnosis and Management. She co-authored PainWise – A Patient's Guide to Pain Management and served as co-editor of the three-volume pain review textbook, Pain Medicine and Interventional Pain Management – A Comprehensive Review. She currently serves as editor-in-chief of the professional journal, Pain and Therapy.
Dr. Trescot is a lifetime member of the American Society of Interventional Pain Physicians and the Florida Society of Interventional Pain Physicians. She is also a member of the Alaska Society of Interventional Pain Physicians, the World Institute of Pain, the North American Neuromodulation Society and the International Neuromodulation Society. She is a member of the scientific advisory council for the Global Pain Initiative, and a member of the U.S. Health and Human Services Pain Task Force. She has received numerous awards throughout her life, some of which include the Excellence in Physical Diagnosis Award from the Medical University of South Carolina, the U..S Navy Achievement medal, the Outstanding Service Award and Lifetime Achievement Award from the American Society of Interventional Pain Physicians, and the Distinguished Physician Award from the Florida Medical Association.
She is the founder and director of Project Pain Relief, a non-profit organization dedicated to increasing awareness of pain education in the developing world and training physicians in sustainable pain management techniques.
To schedule an appointment with Dr. Trescot, call the Physician Partners of America Orange Park office at (904) 495-7993 or click here. The office is open from 8 a.m. to 5 p.m. weekdays.
About Physician Partners of America
Headquartered in Tampa, Fla., Physician Partners of America (PPOA) is a fast-growing national healthcare company that manages a wide range of medical practices. These include interventional pain management, minimally invasive spine and laser procedures, orthopedics, personal injury, Workers' Compensation, telemedicine, and AAAHC-accredited ambulatory surgery centers and procedure suites. PPOA was founded in 2013 on the idea of strengthening the doctor-patient relationship and combating the opioid crisis through interventional modalities. For more information, visit ppoamedical.com.