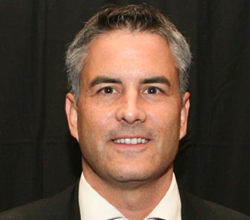 There was broad support for Andrew's selection from IZA's Executive Committee based on his experience and proven leadership.
DURHAM, N.C. (PRWEB) April 02, 2019
Rodrigo Daud, CEO of American Zinc Recycling and Chair of the International Zinc Association (IZA), is pleased to announce the appointment of Andrew Green, Ph.D. as the new Executive Director of IZA. This follows an extensive search of potential candidates globally led by IZA's Executive Committee, in collaboration with an executive search firm. Rodrigo noted the broad support for Andrew's selection from IZA's Executive Committee based on his experience and proven leadership. "We have been working on succession planning for a while inside IZA, in different positions, and Andrew's promotion shows that we are on the right path. We look forward to working with Andrew on the opportunities and challenges facing the zinc industry going forward," commented Daud.
Andrew brings over 20 years of multi-disciplinary experience in the zinc industry to the position. Andrew is currently the Director of Environment, Health and Sustainability as well as the Director of the Zinc Nutrient Initiative, a zinc fertilizer market development program. He has also been involved in the organization of IZA conferences including the Zinc Metal Roundtable and the International Zinc Conference. Prior to joining IZA, Andrew had a National Research Council Post-Doc position with the US Army Corps of Engineers and was also a Research Assistant Professor at the University of South Carolina. Andrew received his Ph.D. from the University of South Carolina from the School of Public Health.
Andrew succeeds Stephen Wilkinson, who will retire and has served as the IZA Executive Director since 2004. Stephen's time with IZA was marked by numerous successful initiatives including market development projects, launching of the Zinc Saves Kids initiative with UNICEF and development of programs in China and India. "Stephen did amazing work during his tenure with IZA, bringing the Association to the level it is today and becoming a benchmark for other associations. On behalf of the entire Executive Committee I thank Stephen for his passion and support of the Zinc Industry," added Daud.
About IZA: The International Zinc Association (IZA) is guided by the principal of ensuring that zinc is recognized as a sustainable and essential material for modern life. Representing the global zinc industry, IZA's major mission is to sustainably grow and protect markets and provide the Industry a license to operate by managing initiatives in Environment and Sustainable Development, Technology and Market Development and Communications.
IZA has offices in the United States, Europe, China and India.
For more information, visit http://www.zinc.org.