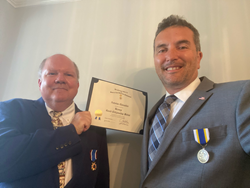 ALEXANDRIA, Va. (PRWEB) September 30, 2020
Dr. Antoine Chevalier, PhD. H.P., L.M.T., M.P.P. Functional Medicine Practitioner & Advisor to the Executive Officer of the President, was awarded the prestigious Bronze Citizenship Medal by the legacy foundation Sons of the American Revolution George Washington Chapter. The Sons of the American Revolution gives only gold and bronze medals. The last recipient of the Gold Medal was ex Supreme Court Justice, Anthony Scalia. The award was given to Dr. Chevalier, for:

Treating more than 400 Veterans, mostly homeless, and athletes suffering from suicidal ideation due to the effects of concussion (post-traumatic stress disorder (PTSD), major depression disorder, traumatic brain injury (TBI), opioid addiction, chronic pain, and insomnia)
Providing services free of charge for those who cannot afford treatment
Demonstrating that his Functional Medicine Protocols increase neural plasticity and connectivity more than 70% with long-lasting results after one session
Non-members of the American Sons of the Revolution who have demonstrated service to the community in a manner that supports the objects of the society is required for consideration of the award; supporting Veterans of the U.S. Armed Forces is recognized by the organization.
To further his work with Veterans and professional athletes suffering the effects of concussion, Dr. Chevalier is establishing a global body of public research for brain injury therapy. For additional details on how to participate in the research study, visit https://urthecure.com To join Dr. Chevalier's global research efforts in support of individuals who cannot afford therapeutic services, visit gofundme.
ABOUT DR. ANTOINE CHEVALIER, PhD, H.P., L.M.T., M.P.P.
Dr. Antoine Chevalier, also known as "The White House Doc", is currently working with homeless military Veterans who have been clinically diagnosed suicidal, individuals battling depression, PTSD, gang members, children with Autism, patients who are visually impaired, professional athletes including NFL and NHL players, MMA fighters who are suffering from concussion tremors, and more. Dr. Chevalier's therapy recommendations include healing botanicals that are tailored to a person's unique biology. Dr. Chevalier's hands-on experience has resulted in a wealth of world research results on addressing brain injury with natural botanicals and leading-edge technology.
Dr. Chevalier is establishing a non-profit organization, U R The Cure, to expand brain injury therapy research services nationally. Alliances and supporters of Dr. Chevalier include David Benhoff Lt. Col/USMC (Retired), Dr. Atsuhisa Nakano, MD, PhD, Dr. Aya Nakano, MD, PhD, C. Norman Shealy, M.D., PhD, professional athletes Marvin Washington, Daniel Puder, Lorenzo Neal, and actor Richard Dreyfuss. For additional details, visit https://urthecure.com