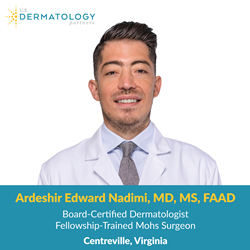 U.S. Dermatology Partners CEO Paul Singh stated, "We are pleased to welcome Dr. Nadimi to our Centreville office. Dr. Nadimi's addition will help us to expand our local coverage for Mohs Surgery for patients with skin cancer and introduce vein services to our Northern Virginia patients."
CENTREVILLE, Va. (PRWEB) November 02, 2021
U.S Dermatology Partners is pleased to welcome Board-Certified Dermatologist and Fellowship-trained Mohs Surgeon and vein specialist Dr. Edward Nadimi to their Centreville, Virginia location.
Dr. Ardeshir Edward Nadimi is a board-certified dermatologist and fellowship-trained Mohs surgeon. He specializes in the treatment of skin cancer, including basal cell carcinoma, squamous cell carcinoma, melanoma, and other rare forms of skin cancer.
He completed an American College of Mohs Surgery approved fellowship in Mohs surgery/dermatologic oncology at the nationally-recognized Scripps Clinic under Dr. Hugh Greenway — who trained with the inventor of Mohs surgery, Dr. Frederic Mohs. During his fellowship, Dr. Nadimi also focused on venous/lymphatic medicine including the treatment of leg veins, as well as cosmetic/laser dermatology.
Prior to his fellowship, Dr. Nadimi earned his medical doctorate from Eastern Virginia Medical School, where he was inducted by his peers into the prestigious Gold Humanism Honor Society. He then completed a one-year internship in Internal Medicine at Georgetown University Hospital, followed by a three-year Dermatology residency at Washington Hospital Center-Georgetown University Hospital.
Dr. Nadimi has published several peer-reviewed manuscripts in the dermatology literature related to skin cancer, is the author of a textbook chapter on advanced skin cancer reconstruction, and has presented original research at national conferences.
Dr. Nadimi's treatment philosophy revolves around listening very closely to his patients to come up with a mutually agreed-upon plan. He also believes in the healing power of the physician-patient relationship. Dr. Nadimi is fluent in Spanish and Persian (Farsi).
He is excited to return to his hometown and provide patient-centered care to the DMV (D.C., Maryland, Virginia) community. He is proud to have attended Thomas Jefferson High School for Science and Technology in Alexandria, Virginia — often ranked the number one high school in the United States. He enjoys spending time with his family, playing tennis, hiking, listening to all genres of music, and rooting for the Washington Football Team.
Dr. Nadimi joins Neeraja Mattay, M.D., Imran Aslam, M.D., Kassahun Bilcha, M.D., Diana Rivers, D.O., and Michael Yablonsky, M.D.
U.S. Dermatology Partners Chief Executive Officer Paul Singh stated, "We are pleased to welcome Dr. Nadimi to our Centreville office. Dr. Nadimi's addition will help us to expand our local coverage for Mohs Surgery for patients with skin cancer and introduce vein services to our Northern Virginia patients."
Dr. Nadimi treats patients in Centreville, Virginia at U.S. Dermatology Partners and is accepting new patients. To schedule an appointment, call 703-222-2773.
About U.S. Dermatology Partners
As one of the largest dermatology practices in the country, U.S. Dermatology Partners patients not only have access to general medical, surgical, and cosmetic skin treatments through its coordinated care network but also benefit from the practice's strong dermatology subspecialty thought leaders and medical advisory board. To be the best partner to its patients, U.S. Dermatology Partners is fervently focused on providing the highest level of patient-first care, and its team, therefore, includes recognized national leaders in areas such as clinical research, psoriasis, and Mohs Surgery. To learn more, visit usdermatologypartners.com.