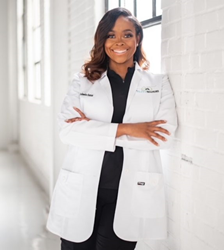 Through hard work and dedication, Dr. Batiste is now the proud owner of Elite Dental Wellness in Houston, Texas.
HOUSTON (PRWEB) November 04, 2021
Smile Expert From Houston, Dr. Ashandra Batiste, continues her partnership with Haute Beauty Network, now in her second year.
Born and raised in Missouri City, Texas, Dr. Ashandra Batiste is a Cum Laude graduate of Elkins High School. Following high school, Dr. Batiste attended The University of Texas where she obtained top honors from the College of Natural Sciences and a Bachelor of Science degree in Human Development and Family Sciences. During her undergraduate years, she became a member of Delta Sigma Theta, Sorority Incorporated, and served on the national board of the Pan-Hellenic Council.
Dr. Batiste continued her education at Howard University College of Dentistry, where she not only earned a Doctorate in Dental Surgery but also became a finalist for entry into the dental honor society, Omicron Kappa Upsilon, and graduated with multiple honors as a top graduate of her class.
Through hard work and dedication, Dr. Batiste is now the proud owner of Elite Dental Wellness in Houston, Texas. She is a standing member of the American Dental Association, Greater Houston Dental Society, Texas Academy of General Dentistry, American Academy of Cosmetic Dentists, International Implant Association, and American Association of Women Dentists.
When Dr. Batiste is not practicing her passion for cosmetic dentistry she dedicates her time to her children Avery, Logan, and Quinn as well as encouraging young ladies. She is addicted to working out (follow her on Peloton!), cooking amazing meals, and she still cannot believe that she is so lucky to be married to Richard Cumby - her best friend.
Her goals include laughing every day - it's her trick to remaining young. Loving hard and loving deeply her friends and family. Remaining faithful at all times, even when it's incredibly difficult. Providing a business that impacts the community.
Learn more about Dr. Ashandra Batiste by visiting: https://hauteliving.com/hautebeauty/member/dr-ashandra-batiste/
ABOUT HAUTE BEAUTY NETWORK:
Haute Beauty is affiliated with the luxury lifestyle publication Haute Living. As a section of Haute Living magazine, Haute Beauty covers the latest advancements in beauty and wellness, providing readers with expert advice on aesthetic and reconstructive treatments through its network of acclaimed doctors.
For more about Haute Beauty, visit https://hauteliving.com/hautebeauty/