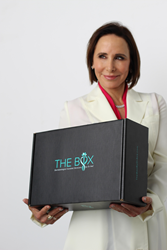 BEVERLY HILLS, Calif. (PRWEB) November 19, 2020
Renowned dermatologist, Dr. Ava Shamban, founder of Ava MD dermatology clinics and Skin Five, the streamlined multi-modality maintenance medspa concept for face and body, introduces the first physician curated subscription box. The membership program includes curated seasonal professional skincare, treatments, and technologies designed to deliver results that were previously only available to her clinic patients.
Skin obsessed and skin enthusiasts looking for the newest, latest and greatest in dermatologist recommended products will receive a special seasonal delivery and become part of the community and conversation led by Dr. Ava. In addition, members will have access to special events, seminars, tele-aesthetic consultations and live chats with the Ava MD team as well as offers. "I have always been passionate about quality skincare and delivering the best advice, treatments and products to my patients,'' says Dr. Shamban. "The Box by Dr. Ava will extend the reach, allowing me to deliver the same solution based skincare I recommend to all women, everywhere".
Every box features full size products and treatments, tools or a voucher for service redeemable at local providers. Included in her launch box, a limited edition "Skincare Heroes" is a trifecta of Dr. Ava's favorites, a perfect prescription to kick-off the 'new year new you'. Included is a Cutera truSculpt Flex treatment voucher, a full size U.SK Under Skin Precious Elixir and a must-have priming SPF, Tizo3 by Tizo. The Box by Dr. Ava protects, corrects and offers results-driven effects for face and body. Shipping December 10th, it will arrive home in time for Christmas to get or give the gift of great skin.
truSculpt® Flex [$750.00] is the premiere, personalized muscle building treatment that adjusts to your shape, fitness level and goals to strengthen, firm and tone your muscles. The unique Multi-Directional Stimulation (MDS) technology delivers three simulated workouts replicating intensified crunch, squat and twisting actions. Contour improvements are possible regardless of your shape or fitness level in four 45-minute sessions.
U.SK Under Skin Precious Elixir [$149] These revitalizing elixirs feature a combination of potent active ingredients, peptides, purified growth factors and precious metals or gemstone nanoparticles. Every U.SK Under Skin product combines technology and innovation with the most effective and unique actives to ensure beautiful younger looking skin. All U.SK Under Skin products and technologies are developed by the Italian Research and Development Laboratory Monteresearch®
Tizo3 by Tizo [$41.99] - Formulated with titanium dioxide and zinc oxide, this duo is an extraordinarily efficacious sunscreen filter and physical block to protect the skin against damaging UVA and UVB rays, chemical free. Ideal for sensitive skin it is also subtly tinted doubling as a primer in a silky, oil free lotion with a luxurious velvet matte finish, making it a Dr. Ava "must have" indoors on zoom or outdoors in winter.
The Box by Dr. Ava will also support key causes with every purchase. Each box will donate a percentage of proceeds to a designated charity. For holiday, The Box by Dr. Ava, the limited edition Skin Heroes selection, will donate a portion of the proceeds to Direct Relief, a humanitarian health organization active in 80 countries and all 50 States in the U.S. Throughout the Covid-19 pandemic, Direct Relief has continued to provide protective gear and critical care medications for frontline health workers with daily deliveries to medical facilities across the U.S. at no cost.
In 2021 The Box by Dr. Ava memberships for quarterly, curated, seasonal skin care and treatments delivered to your door will offer two levels. The Skin Enthusiast [$250.00 quarterly] includes The Box by Dr. Ava and access to virtual events. Skin Obsessed members paying annually [$850.00] will receive the same seasonal box plus premiere virtual events, private sales and discounts and tele-aesthetic appointments with the team at Ava MD.
For more information please visit: http://www.theboxbydrava.com or the company's Facebook, Instagram or Twitter.