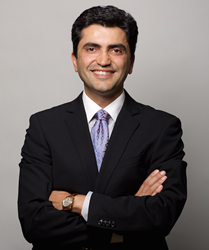 If we prioritize physician safety, the care of our patients, and public health needs, we can do our part to combat the spread of the coronavirus
BEVERLY HILLS, Calif. (PRWEB) April 09, 2020
Dr. Babak Azizzadeh, chairman and director of the CENTER for Advanced Facial Plastic Surgery, has written an article that explores the roles and challenges of facial plastic and reconstructive surgeons (FPRS) during pandemics. The article comes during the global novel coronavirus (COVID-19) pandemic, which has created uncertainty across the health-care system.
Local, state, and government agencies have implemented "stay at home" restrictions and encouraged social distancing due to COVID-19. These efforts are intended to help slow the spread of COVID-19, but many FPRS now feel displaced and unsure of how to help those in need.
As a globally recognized FPRS, Dr. Azizzadeh performs surgical and non-surgical procedures to help patients correct functional and cosmetic issues. With the COVID-19 pandemic, Dr. Azizzadeh's role has changed, and new challenges have developed. In his article, Dr. Azizzadeh examines the evolving roles and challenges of FPRS during the COVID-19 pandemic and offers recommendations to help FPRS support patients and others throughout the crisis.
Most FPRS perform "aerosol-generating" procedures and surgeries such as nasal/sinus surgery, intubation, tracheostomies, and flexible fiberoptic laryngoscopies that put them at increased risk of contracting COVID-19, according to Dr. Azizzadeh. As such, FPRS have an ethical responsibility to limit unnecessary contact with patients and others to lower the risk of inadvertently spreading the coronavirus.
In addition, non-essential services have been banned in many states, and the American Society of Plastic Surgeons and American Academy of Facial Plastic and Reconstructive Surgery recommend surgeons stop performing any elective or non-essential procedures until the COVID-19 pandemic passes. This has forced FPRS to consider which procedures are essential, Dr. Azizzadeh states, and conserve personal protective equipment and medical resources.
FPRS must also evaluate their role as physicians during the COVID-19 pandemic, Dr. Azizzadeh points out. These surgeons are trained in facial plastics, otolaryngology—head and neck surgery, and general surgery, and they should feel empowered to use their unique expertise to assist those in need during this challenging time.
"There are many things that FPRS can do to help our patients and others during the COVID-19 pandemic," Dr. Azizzadeh says. "If we prioritize physician safety, the care of our patients, and public health needs, we can do our part to combat the spread of the coronavirus."
Dr. Azizzadeh's new article has been published in Facial Plastic & Aesthetic Medicine, and it is available to read here.
For more on Dr. Azizzadeh and the CENTER for Advanced Facial Plastic Surgery, visit http://www.facialplasticsbh.com.
About Dr. Babak Azizzadeh and the CENTER for Advanced Facial Plastic Surgery:
Dr. Babak Azizzadeh, Chairman and Director of the CENTER for Advanced Facial Plastic Surgery, is one of the leading international experts in facial plastic surgery. His expertise in cosmetic and reconstructive plastic surgery has made him one of the most sought-after physicians. Dr. Azizzadeh's client list includes not only celebrities, executives, physicians and dignitaries from around the world, but also amazing people from all walks of life. He has been featured in The Oprah Winfrey Show, People Magazine, New York Times, Discovery Health, Los Angeles Times, Beverly Hills Courier and numerous other media outlets for his expertise in facial plastic surgery. Dr. Azizzadeh is one of a select group of surgeons who are double board-certified by the American Board of Facial Plastic and Reconstructive Surgery as well as the American Board of Otolaryngology-Head and Neck Surgery. His plastic surgery colleagues have consistently chosen him as one of the Top Doctors in Beverly Hills, CA. For more information, please visit https://www.facialplasticsbh.com/
Media Contact: Chloe, CENTER for Advanced Facial Plastic Surgery, 310-657-2203 chloe@facialplasticsbh.com