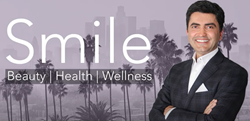 SMILE can provide a great platform for those who want to learn how to enhance their facial appearance and maintain a beautiful facial appearance now and in the future
BEVERLY HILLS, Calif. (PRWEB) May 07, 2020
Dr. Babak Azizzadeh, Chairman and Director of the CENTER for Advanced Facial Plastic Surgery in Los Angeles and a globally recognized facial plastic and reconstructive surgeon, has launched the SMILE podcast. With SMILE, Dr. Azizzadeh shares his unique and holistic perspective on a wide range of beauty, health, and wellness topics.
SMILE features industry insights from Dr. Azizzadeh and other experts. Listeners can use SMILE to discover new ways to improve their overall health. Plus, SMILE experts provide tips, recommendations, and suggestions to help listeners get the best results from their current beauty, health, and wellness regimen — or develop and start using a new one.
The first three SMILE episodes come during the coronavirus (COVID-19) pandemic, which has made it exceedingly difficult for healthcare practitioners and their patients to connect. Each episode focuses on a different aspect of the pandemic's impact on the beauty, health, and wellness community:
Episode 1 — Coronavirus 101: Dr. C. Andrew Schroeder, formerly the Clinical Chief of Pulmonary and Critical Care Medicine at Cedars-Sinai Medical Center and a clinical instructor of medicine at the UCLA David Geffen School of Medicine, takes an in-depth look at the coronavirus crisis and its global ramifications.
Episode 2 — Coronavirus and the Nose: Ear, nose, throat, head, and neck expert Dr. Babak Larian of the CENTER for Advanced Parathyroid Surgery in Los Angeles discusses the coronavirus' impact on ear, nose, and throat (ENT) surgeons.
Episode 3 — Coronavirus and Your Teeth: Dr. Katrin Azizzadeh, a board-certified family dentist in the Encino, California area who has comprehensive experience in non-aggressive cosmetic and general dentistry, provides tips to help people manage their dental issues during the coronavirus pandemic.
Millions of people undergo facial plastic and reconstructive surgery each year, and Dr. Azizzadeh works with patients to help them quickly and safely revitalize their facial features. Future SMILE podcast episodes will explore a variety of beauty, health, and wellness topics, as well as offer insights to help people achieve a balanced, natural-looking facial appearance.
"I have a simple goal with SMILE: to bring a smile to the face of each listener," Dr. Azizzadeh says. "By sharing my insights into beauty, health, and wellness and encouraging other experts in these areas to do the same, SMILE can provide a great platform for those who want to learn how to enhance their facial appearance and maintain a beautiful facial appearance now and in the future."
The first three SMILE episodes are available here. In addition, SMILE episodes are available on Spotify, SoundCloud, Apple, and YouTube.
For more on Dr. Azizzadeh and the CENTER for Advanced Facial Plastic Surgery, visit http://www.facialplasticsbh.com.
About Dr. Babak Azizzadeh and the CENTER for Advanced Facial Plastic Surgery:
Dr. Babak Azizzadeh, Chairman and Director of the CENTER for Advanced Facial Plastic Surgery, is one of the leading international experts in facial plastic surgery. His expertise in cosmetic and reconstructive plastic surgery has made him one of the most sought-after physicians. Dr. Azizzadeh's client list includes not only celebrities, executives, physicians and dignitaries from around the world, but also amazing people from all walks of life. He has been featured in The Oprah Winfrey Show, People Magazine, New York Times, Discovery Health, Los Angeles Times, Beverly Hills Courier and numerous other media outlets for his expertise in facial plastic surgery. Dr. Azizzadeh is one of a select group of surgeons who are double board-certified by the American Board of Facial Plastic and Reconstructive Surgery as well as the American Board of Otolaryngology-Head and Neck Surgery. His plastic surgery colleagues have consistently chosen him as one of the Top Doctors in Beverly Hills, CA. For more information, please visit https://www.facialplasticsbh.com/
Media Contact: Chloe, CENTER for Advanced Facial Plastic Surgery, 310-657-2203, chloe@facialplasticsbh.com