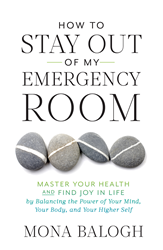 "A must read for anyone who wants to stay out of emergency rooms!"
LOS ANGELES (PRWEB) September 17, 2020
Over the course of twenty-seven years treating patients in emergency rooms, Dr. Mona Balogh noticed a tendency - from diabetes to addiction - for some people to chronically use ERs to address their disease when lifestyle changes could help their condition immensely. These "Frequent Fliers" didn't seem to understand how to help themselves. Dr. Balogh took the road less travelled, convinced there had to be a more comprehensive and effective roadmap she could offer to help her patients restore their health and vitality.
How to Stay Out of My Emergency Room addresses a panoply of bad habits and addictions through captivating stories of Dr. Balogh's interactions with patients who repeatedly return to her emergency room due to their tendency to avoid making lifestyle changes. Delving deeper, we soon learn that there might be a Frequent Flyer hidden in many of us.
The second part of the book moves into action, presenting a roadmap to instilling healthy new habits into our lives - complete with worksheets. By applying the Eastern philosophy of opposing forces with The 12 Steps and Vipassana-inspired meditations, the book provides a foundation for the reader to help themselves escape from whatever unhealthy rut in which they find themselves. In a series of powerful game-changing meditations we get in touch with our Higher Self.
How to Stay Out of My Emergency room calls upon time-honored principles to help us stop blaming everybody and everything around us and use tools outlined in the book to fulfill the vision that we have for ourselves and our life.
Not since the 7 Habits of Highly Successful People has there been an "instruction manual" that powerfully presents such a positive program of living. This book will be useful to the health professional, the caregiver and for anyone who is ready to do what is necessary to transform their lives and become their very best self.
Available at Amazon
ISBN: 978-1544509099 (softcover)
ISBN: 978-1544509105 (hardcover)
B08BDBY397 (electronic)