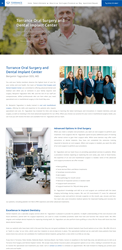 When facing oral surgery, we are thrilled to know that patients feel comfortable, cared for and satisfied with their experience. The Top Patient-Rated award is one we deeply value as we carry out our mission for patient-centered care, says Dr. Yagoubian of Torrance Oral Surgery Center.
TORRANCE, Calif. (PRWEB) December 06, 2018
Dr. Benjamin Yagoubian is dually trained in oral and maxillofacial surgery, offering his skills and expertise to patients who require specialized and complex oral care. Dr. Yagoubian leads the practice of Torrance Oral Surgery Center, where he offers implant dentistry and advanced jaw surgery in a modern, comfortable environment. His practice is located at 23451 Madison Street #120 in Torrance, California.
Dr. Yagoubian's extensive training and specialized oral surgery services are met with a remarkably high patient satisfaction rate. Recently, Find Local Doctors has recognized the number of five-star reviews and superior ratings from Dr. Yagoubian's patients, which were left across multiple credible sources online. This allowed Find Local Doctors to recognize Dr. Benjamin Yagoubian as a 2018 Top Patient-Rated Torrance Oral Surgeon. Find Local Doctors is a nationwide online directory that helps users easily locate qualified and reputable physicians, dentists and oral surgeons in their respective communities.
The high accolades and excellent ratings that were given for Dr. Yagoubian reflect his compassionate nature, his pristine office environment and his cutting-edge oral surgery services. He is highly regarded for his ability to not only provide complete implant dentistry but to also treat both simple and complex issues involving the oral cavity, jaw, and facial bones. Some of the advanced oral surgical procedures offered at Torrance Oral Surgery Center include bone grafting, facial/jaw reconstructions, tooth extractions, and treating jaw lesions. In addition, patients can receive facial dermal fillers and Botox from someone who carries elite training in the delicate anatomy and structures of the face.
"When facing an oral surgery procedure, we are thrilled to know that patients feel comfortable, cared for and ultimately satisfied with their experience at our Torrance office. The Top Patient-Rated award is one we deeply value as affirmation we are carrying out our mission for superior, patient-centered care," says Dr. Benjamin Yagoubian of Torrance Oral Surgery Center.
As a diplomate of the American Board of Oral and Maxillofacial Surgery, Dr. Yagoubian has spent over six years of additional training after dental school to gain his advanced surgical skills. To serve patients with a superior level of care, Dr. Yagoubian combines his knowledge and training as an oral surgeon with the latest equipment in modern dentistry. He uses a state-of-the-art 3D (cone-beam) CT Scan to plan and perform intricate surgeries on the mouth, jaw, sinuses and face. The Torrance team also uses innovative treatment options to improve healing and recovery after oral surgery, such as platelet-rich fibrin (PRF) application.
More About Benjamin Yagoubian DDS, MD:
Dr. Yagoubian attended UC Berkeley for his undergraduate studies and graduated with a bachelor of arts in Molecular Cell Biology. He continued his dental education at Columbia University where he obtained his Doctor of Dental Surgery Degree in 2009. With Dr. Yagoubian's continued interest in the facial skeleton, he furthered his training in Oral and Maxillofacial Surgery at Columbia University, where he received his Medical Degree in 2012 and completed his training in Oral and Maxillofacial Surgery in 2015 at Columbia University/New York Presbyterian Hospital.
For more information on the services offered by Dr. Benjamin Yagoubian, visit http://www.torranceoralsurgerycenter.com or contact his Torrance office directly at (310) 373-0667.