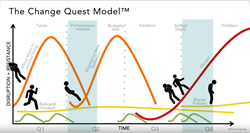 The success of any change initiative lives in your ability to help get your employees, clients, stakeholders through it without harming the culture or trust of your organization
SANTA BARBARA, Calif. (PRWEB) October 31, 2018
Dr. Britt Andreatta, an internationally recognized thought leader and former chief learning officer for Lynda.com (now LinkedIn Learning), has released the Change Quest Model™ for Managers, new brain-based online course based on the latest brain science, on how to lead others through any change.
Watch the course preview here.
In Change Quest Model™ for Managers, Dr. Andreatta shows how you can use brain-based learning to thrive and lead others through any change. While change is the new normal, managers can learn to implement successful organizational changes by making biology work for you.
The Change Quest Model™ for Managers course takes into account the various factors that influence an employee's motivation for a particular change. Managers will gain three main types of tools: navigation tools, motivation tools, and connection tools, which can be applied together in different combinations to meet their teams' needs through a wide range of change types.
This model has helped managers, leaders, and organizations better prepare their organization for the change and the tools to use when change fails. "The success of any change initiative lives in your ability to help get your employees, clients, stakeholders through it without harming the culture or trust of your organization," says Dr. Andreatta.
After this self-paced 90-day ecourse, managers will be able to

Assess and prepare their team for any kind of change
Help get people through the change successfully
Unify their team so they support each other's success
Motivate their people through inevitable challenges
Leverage useful troubleshooting tools when things get off track
To enroll in the course, managers should visit BrittAndreattaTraining.com. There is also an option to become a certified trainer to support organizations in driving successful change.
About Dr. Britt Andreatta
Dr. Britt Andreatta is an internationally recognized thought leader who uses her unique background in leadership, neuroscience, psychology and learning to create brain science-based solutions for today's workplace challenges. She is the former Chief Learning Officer for Lynda.com (now LinkedIn Learning) and her research is transforming the learning and talent industry. With over 25 years of experience working with Fortune 100/500 corporations, educational and government institutions, and nonprofits, Britt is known for helping people and organizations rise to their potential.
Connect with Britt Andreatta at BrittAndreattaTraining.com or on LinkedIn and Twitter.