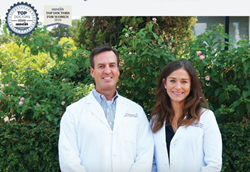 AUSTIN, Texas (PRWEB) November 18, 2020
Dr. Edward Buckingham, founder and director of the Buckingham Center for Facial Plastic Surgery, was recently recognized by Austin Monthly as a Top Doctor for women in the area. The local publication uses a peer-based system to identify nominees for the list, which recognizes the top 10-15% of submitted candidates after a voting process and review. It is an honor that showcases Dr. Buckingham's commitment to his patients' results, safety, and comfort.
Dr. Buckingham is certified by both the American Board of Otolaryngology-Head and Neck Surgery, and the American Board of Facial Plastic and Reconstructive Surgery (ABFPRS). He is renowned for his ability to create natural-looking results and works hard to stay on the cutting edge of cosmetic facial technologies, both surgical and non-surgical.
His specialty skills include surgical procedures such as reconstructive surgery, rhinoplasty, and revision rhinoplasty. Other surgeries include eyebrow lifts, facelift, chin implants, limited incision facelifts and facial fat transfer. Buckingham Center also offers non-surgical treatments including micro-needling, laser resurfacing, and Botox.
Dr. Buckingham spends a great deal of time with each patient. The initial consultation allows him to make detailed recommendations, reduce surgical concerns and anxieties, and help the prospective patient manage their own expectations. Being fully prepared for the procedure is critical to a safe and effective result. Buckingham Center's patients in Austin feel safe and supported by Dr. Buckingham throughout the entire process, from consultation to aftercare.
At the end of the initial consultation, the prospective patient will typically walk away with a customized treatment plan and detailed information on:

How to prepare for the procedure
Any risks to consider prior to scheduling the surgery
Standard recovery time
Best aftercare practices
Buckingham Center for Facial Plastic Surgery is a true specialty practice, focusing solely on facial surgery and non-surgical rejuvenation. Dr. Buckingham's double certification demonstrates his commitment to providing patients with the very best in facial plastic surgery. He has extremely high standards and works only with medical professionals who share his dedication and professional values.
The comfort and security of patients are critical to the entire staff at the Buckingham Center for Facial Plastic Surgery. Dr. Edward Buckingham has built a culture of professionalism that offers prospective patients the chance to express their concerns and explore their options with the expectation of patience and respect.
Dr. Edward Buckingham completed his medical degree at the University of Texas Medical Branch in Galveston, Texas. He went on to study facial plastic surgery and reconstructive surgery at the Albany Medical Center and the New England Laser and Cosmetic Surgery Center in Albany, New York. His current focus on rhinoplasty, blepharoplasty and facelift make him an excellent information source for the people of Austin who are considering any cosmetic procedure.
###
To learn more, schedule a consultation with the professionals at the Buckingham Center for Facial Plastic Surgery. You can contact the office at any time online or schedule a consultation over the phone at 512-401-2500. Buckingham Center is located at 2745 Bee Cave Road, #101, Austin, TX 78746.