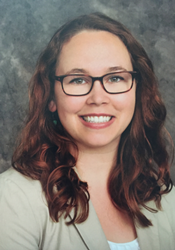 TWIN CITIES, Minn. (PRWEB) August 02, 2019
Dr. Caitlin Hemmerich of Jensen & Jensen Periodontics & Dental Implants is pleased to offer the LANAP® protocol gum disease treatment and LAPIP™ protocol for ailing dental implants in the Twin Cities area. Dr. Hemmerich recently completed her year-long LANAP hands-on training period, joining an elite class of periodontists implementing the premier no-cut, no-sew, no-fear regenerative treatment.
"I am a recent periodontics program graduate, and have been lucky enough to be mentored by Drs. Jensen, who value a high caliber of patient care," said Dr. Hemmerich. "Gum disease treatment can be both effective and also relatively painless thanks to the use of PerioLase MVP-7 dental laser for the LANAP protocol, making it a win-win for our patients and our practice."
LANAP treatment uses light energy from the PerioLase MVP-7 dental laser to target the source of gum disease, without harming or removing any healthy gum tissue, decreases pocket depth, and allows the body to recover from the chronic infection without the need for scalpel or sutures. In cases of failing dental implants, the LAPIP treatment is used to treat peri-implantitis and save the implant. Patients report less pain and less post-op sensitivity and a quicker recovery when compared to traditional osseous surgery.
Gum disease is a chronic bacterial infection that rarely has any symptoms in its early stages. Despite the lack of symptoms or pain, the disease can still cause serious damage to your mouth, leading to loss of teeth, which has been tied to decreased lifespan. Additionally, several other serious illnesses like cancer, heart disease and diabetes have suggested links to gum disease.
The LANAP protocol can be performed in as little as one treatment session, and is safe to use on patients with health concerns such as diabetes, heart disease, and hemophilia, without discontinuing medication. It is the only scientifically proven laser gum disease treatment FDA cleared to regenerate the bone and tissues lost to gum disease.
The LANAP treatment is a patented procedure that requires doctors to complete intensive hands-on live patient training through the Institute for Advanced Laser Dentistry (IALD).
For information on the LANAP gum disease treatment, call Jensen & Jensen at (651) 770-3014 for an appointment.
About Dr. Hemmerich
Caitlin Hemmerich, DDS, graduated from the University of Minnesota School of Dentistry before enrolling in the General Practice Residency at Hennepin County Medical Center. Originally hailing from Sparta, Wisconsin, Dr. Hemmerich has now made the Twin Cities her home. She was mentored in her training by both Drs. Rob and Jane Jensen. She brings exceptional clinical skills as well as kind, compassionate care.
When Dr. Hemmerich isn't seeing patients, she is active outdoors with her husband, Kevin, exploring the many wonderful state parks of Minnesota by bike, kayak, or hiking boots.