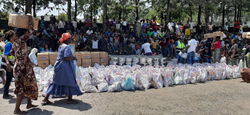 NEW ROCHELLE, N.Y. (PRWEB) February 28, 2023
People who have been internally displaced during the ongoing conflict in the North Kivu Province of the Democratic Republic of the Congo* and are seeking shelter at Don Bosco Ngangi in Goma had access to nutritional support thanks to a partnership between Salesian Missions, the U.S. development arm of the Salesians of Don Bosco, and Feed My Starving Children, a nonprofit Christian organization committed to "feeding God's children hungry in body and spirit." The shipment of rice-meals and other food helped 1,440 households.
The conflict has left more than 5.8 million people displaced across the provinces of Ituri, North Kivu, South Kivu and Tanganyika, according to UNHCR – the United Nations Refugee Agency. Since the beginning of October 2022, more than 28,000 people seeking refuge from violence have arrived at Don Bosco Ngangi. Salesian missionaries, with support of volunteers from the Salesian-run International Volunteering for Development (VIS), are supporting people as best as they can.
Those who have been displaced and seeking shelter with the Salesians include 19,000 children, who are suffering from insufficient food and are challenged by harsh living conditions. Salesians have identified more than 1,000 children under age 5 who have been showing signs of malnutrition due to lack of food in sufficient quality and quantity while the war has continued.
One Salesian missionary said, "This area of the Democratic Republic of the Congo is extremely fertile and most families work in the agricultural center. However, more than 90 percent of the farmers had already sown their crops and were at a stage where the agricultural crops needed more maintenance in order to hope for a very good harvest. Unfortunately, the war caught them unprepared, and they were forced to leave their homes and take refuge in Ngangi."
People who received the rice-meals have been extremely grateful for the donation, especially the children who look forward to mealtimes. Salesians report that the rice-meals have helped to address malnutrition. As the war rages on, Salesian missionaries and VIS continue to look for ways to help support those who have been displaced.
*Any goods, services, or funds provided by Salesian Missions to programs located in this country were administered in compliance with applicable laws and regulations, including sanctions administered by the U.S. Department of Treasury's Office of Foreign Asset Control.
###
About Salesian Missions USA
Salesian Missions is headquartered in New Rochelle, NY, and is part of the Don Bosco Network—a worldwide federation of Salesian NGOs. The mission of the U.S.-based nonprofit Catholic organization is to raise funds for international programs that serve youth and families in poor communities around the globe. The Salesian missionaries are made up of priests, brothers and sisters, as well as laypeople—all dedicated to caring for poor children throughout the world in more than 130 countries and helping young people become self-sufficient by learning a trade that will help them gain employment. To date, more than 3 million youth have received services funded by Salesian Missions. These services and programs are provided to children regardless of race or religion. For more information, go to SalesianMissions.org.
Contact:
Laura Perillo
media@salesianmissions.org
908-406-3413 (text messages OK)
Twitter: @MissionNewswire
Newswire: MissionNewswire.org
Press room: SalesianMissions.org/press