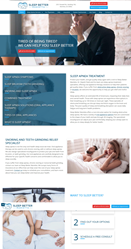 By starting this practice, I can help a large number of those who are tired of being tired. Sleep Better Marietta will help patients achieve quality sleep, using non-intrusive options to improve their daily lives and overall health, says Dr. Dipesh Patel
MARIETTA, Ga. (PRWEB) November 01, 2019
Dr. Dipesh Patel is proud to announce the opening of Sleep Better Marietta. This new practice is located at 2551 Roswell Rd., Building 100, Marietta, GA, and is associated with Marietta Dental Professionals. With many years of dental experience, Dr. Patel is a sleep apnea treatment specialist, who is dedicated to providing individualized, compassionate care for his patients. At Sleep Better Atlanta, Dr. Patel and his dental team offer advanced solutions in customized oral devices to help patients reduce obstructions, improve breathing and maximize sleep quality.
"Obstructive sleep apnea and other issues negatively impact a significant percentage of the population. By starting this practice, I can help a large number of those who are tired of being tired. Sleep Better Marietta will help patients achieve quality sleep, using non-intrusive options to improve their daily lives and overall health," says Dr. Dipesh Patel
Sleep Better Marietta customizes oral appliance therapy options to treat sleep apnea, snoring and bruxism. Some of the oral appliances offered at Sleep Better Marietta to improve a patient's quality of sleep include the Herbst, the TAP®3 (Thornton Adjustable Positioner), ProSomnus® oral appliances and the MicrO2® mandibular adjustment device (MAD). Obstructive sleep apnea is the most common type of sleep apnea and is characterized by repeated episodes of complete or partial obstructions of the upper airway during sleep. Dr. Patel will provide a comprehensive exam of every patient to determine the best option to relieve obstruction issues. At Sleep Better Marietta, many forms of insurance are accepted, including Medicare. Contact the Sleep Better Marietta office, and schedule your consultation to discuss the different treatment options available.
More about Dr. Dipesh Patel:
Dr. Dipesh Patel completed his undergraduate studies with honors at the University of Georgia before earning his doctorate from Nova Southeastern University's College of Dental Medicine. Dr. Patel brings a passionate approach to dentistry and a commitment to superior,
patient-centered care. In addition to general dentistry, Dr. Patel has undergone rigorous training in sleep medicine. Treating a person as a whole, not just the oral cavity, is a philosophy he has followed since the day he graduated. For more information about the services offered at Sleep Better Marietta please visit http://www.sleepbettermarietta.com or call 470-412-5454.