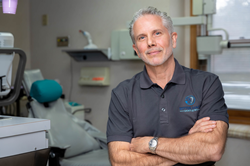 BRIDGEWATER, N.J. (PRWEB) April 02, 2020
Better Image Dentistry will be hosting a fundraiser for the Feeding Hands Food Pantry, which provides nearly 10,000 pounds of food to veterans, the working poor, persons with disabilities, seniors, and the unemployed. The practice will host a raffle for hand-painted glass artwork, with 100 percent of the proceeds going to the Feeding Hands Food Pantry. Dentist Dr. Drew Fairweather is well known for his compassion in the community, which he carries over into the care he provides, often through sedation dentistry in Bridgewater, NJ.
The Feeding Hands Food Pantry provides food to those in need throughout northern New Jersey. It is a private, non-profit organization that has been in operation since May 2014. Dr. Fairweather and his team at Better Image Dentistry are proud to host a fundraiser to support the Feeding Hands Food Pantry and will be raffling off unique, hand-painted glass artwork created by a patient of the practice. The proceeds from the raffle will go to a ShopRite® gift card which will be donated to the pantry to buy food with.
Dr. Fairweather has volunteered with the Feedings Hands Food Pantry since 2017 and has participated with many other community charities, including the Agape House, for decades. Dr. Fairweather's compassion extends into his dental practice as well, often in the form of sedation dentistry.
Since many patients have dental anxiety or fear of the dentist, Better Image Dentistry offers soothing sedation dentistry to calm patients' fears and block sensations of discomfort. The practice offers a variety of sedation levels, including nitrous oxide, oral and IV sedation, depending on the patient's level of anxiety or what procedure they need.
"Not everyone needs sedation dentistry, but our team offers this to help those who are fearful of the dentist get the care they need," says Dr. Fairweather. "We have a board-certified anesthesiologist right in our office for those who choose nitrous oxide sedation dentistry."
Even those who are unafraid of the dentist can choose sedation to help give them ease through extensive dental procedures. Commonly, those seeking dental implants to replace missing teeth require some level of sedation dentistry before going into surgery. Dr. Fairweather and his team do not want any patient to experience discomfort or be fearful of their procedure and offer private consultations to discuss sedation options before treatment begins.
Those interested in learning more about sedation dentistry in Bridgewater, NJ, or who would like to be a part of the raffle to support the Feeding Hands Food Pantry, are encouraged to contact dentist, Dr. Fairweather by visiting http://www.betterimagedentistry.com or calling 908-722-7901.
About the Dentist
Better Image Dentistry provides personalized, industry leading dental care to Bridgewater, NJ. Dr. Drew Fairweather is a member of the Seattle Study Club and the Dawson Academy Alumni Association and has earned his Fellowship with the International Dental Implant Association. He is a Gold Plus Invisalign® Provider and has been published multiple times in the exclusive Journal of the American Academy of Clear Aligners. Dr. Fairweather and the staff at Better Image Dentistry value providing excellent care from dental implant placement to Invisalign, gum disease treatment, and cosmetic dentistry. They also value giving back to their community and work regularly with organizations such as Agape House, Donated Dental Services, and local food shelters. To learn more about Better Image Dentistry and the services they provide, visit http://www.betterimagedentistry.com or call 908-722-7901.