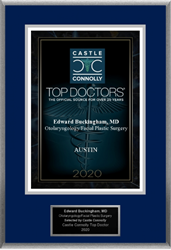 AUSTIN, Texas (PRWEB) May 28, 2020
A double board-certified doctor of Facial Plastic and Reconstructive Surgery and Otolaryngology/Head and Neck Surgery, Edward D. Buckingham, M.D. has been nominated for the Castle Connolly Award.
In addition to bringing world-class plastic surgery to the Austin area, Dr. Buckingham has been a small business owner, employing a staff of 12 at his Buckingham Center for Facial Plastic Surgery office. This award shines the spotlight on Dr. Buckingham's accomplishments at a time when small businesses deserve to be recognized for their sacrifices and service to the community.
Castle Connolly Award nominees are nominated by licensed physicians for their outstanding work in their medical specialty. The award winners undergo an intensive, physician-led review process, in which researchers evaluate the physician's professional accomplishments and outcomes since the beginning of their medical education. The award recognizes doctors that have both outstanding clinical skills and interpersonal communication. Castle Connolly is an organization that manages a directory of the best doctors in the US. Inclusion in their Top Doctors directory is entirely merit-based, unlike other directories where doctors can pay to be listed. In addition to their online directory, they publish an annual Top Doctors book and print regional Top Doctors magazines.
Edward Buckingham has been a Castle Connolly Top Doctor since 2019, featured in the regional and local editions of their written publication. He currently serves as the head physician at the Buckingham Center for Facial Plastic Surgery. The center offers high-quality care for surgical and non-surgical treatments. Their mission is to, "assist our patients in releasing the beauty they already possess." He also offers and directs a prestigious facial plastic surgery fellowship, in which he trains young doctors.
He has served as a director, senior advisor and is currently Treasurer of the American Board of Facial Plastic and Reconstructive Surgery. He is also the current Treasurer of the American Academy of Facial Plastic and Reconstructive Surgery. Dr. Buckingham is well-published within his field, with over 20 publications. He has been recognized for having the 2nd highest exam score for the American Board of Facial Plastic and Reconstructive Surgery's maintenance of certification exam and the highest written exam score in the ABFPRS certification exam.
Before pursuing a career in the medical field, Dr. Buckingham attained a degree in accounting. Dr. Buckingham began his medical education at the University of Texas at Austin, where he completed his pre-medical coursework with a 4.0. He completed his medical degree and residency at the University of Texas Medical Branch. As a surgical resident, he was nominated for the title of UTMB overall-outstanding resident. Dr. Buckingham is popular in Austin for his well-performed rhinoplasty, facial rejuvenation surgery, as well as skin cancer reconstruction.
John Connolly founded Castle Connolly Ltd. in 1991 to help match consumers with the best doctors and hospitals in the country. He claims his company's role is growing in importance as the doctor-patient relationship weakens. The company is growing. They have been expanding into Europe, starting in Spain and Italy. As Covid-19 has stimulated the growth of telemedicine, Castle Connolly has been featuring its top telemedicine doctors.
To get in touch with Dr. Buckingham, use this contact form or call his office at 512-401-2500.