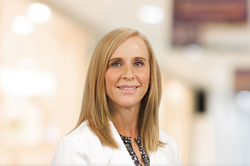 RESTON, Va. (PRWEB) December 08, 2022
Dr. Erica Anderson of the Naderi Center for Plastic Surgery and Dermatology has been named a Top Doctor for 2023, named by Northern Virginia Magazine. Top Doctors are nominated by their own colleagues, who choose from a list of hundreds of practicing plastic surgeons in the Northern Virginia area.
Dr. Anderson is a board-certified plastic surgeon renowned for her expertise in aesthetic and reconstructive procedures below the neck. Her areas of expertise - breast augmentation, tummy tuck, body lift, liposuction, vaginal rejuvenation, and Brazilian butt lift make her a sought-after surgeon in the Washington D.C., Virginia, and Maryland areas.
Dr. Anderson had surgical training at the University of Colorado Health Sciences Center and then went on for additional training in Aesthetic Surgery at Grotting Plastic Surgery in Birmingham, Alabama. She also spent more than ten years as a teaching professor of plastic surgery at Emory University School of Medicine.
Breast Augmentation Surgery
Breast augmentation is a cosmetic surgery procedure that can enhance the size and shape of your breasts. It involves placing breast implants in the pectoral chest muscles, enhancing breast volume, shape, projection, and size. Dr. Anderson is an expert breast augmentation surgeon with extensive experience in performing this type of surgery safely and effectively.
At the consultation, Dr. Anderson uses 3D imaging technology that allows patients to visualize various types, shapes, and volumes of implants so they can make informed choices. During breast augmentation surgery, Dr. Anderson carefully and meticulously places breast implants to give the patient their desired results.
Dr. Anderson also specializes in breast lift surgery, which can be combined with fat grafting or breast augmentation and implants. The breast lift surgery elevates the sagging natural breast tissue to give the patient a rejuvenated, youthful appearance.
Types Of Implants
The Naderi center offers patients saline implants, silicone gel implants, Ideal Breast Implants, or Sientra Breast Implants. The type of breast implants to use for breast enhancement surgery will depend on many things such as breast size, desired breast shape, existing breast tissue, and more.
Saline and silicone implants are two of the most popular breast implant options, however, Dr. Anderson will discuss which type is suitable for you during your breast augmentation consultation.
Ideal Candidates
The ideal candidate for breast augmentation is someone with realistic expectations and a clear understanding of what to expect from the surgery. Dr. Anderson will consider your individual anatomy, lifestyle, and aesthetic goals when determining your optimal implant size and type. During your consultation with her, she will discuss the different types of implants available, the placement options, and which will best suit your needs.
Tummy Tuck Surgery
In addition to breast augmentation, Dr. Anderson is highly skilled in abdominoplasty, or tummy tuck surgery. This procedure helps tighten and contour a flat, smooth abdomen by removing unwanted fat and excess skin, as well as restoring weakened or separated abdominal muscles. Dr. Anderson routinely incorporates liposuction into the procedure for her tummy tuck patients, resulting in a beautiful, sculpted flank area.
There are different abdominoplasty surgical techniques. For example, a mini tummy tuck procedure (lower abdomen) is a viable, less-invasive alternative to a full tummy tuck for many patients. At her consultations, Dr. Anderson reviews her tummy tuck procedure recommendations before making a customized plan for each patient.
Liposuction
Dr. Anderson is experienced in advanced liposuction techniques to successfully remove isolated areas of unwanted fatty tissue, restoring a slender, more youthful body. It can be used on many body areas, including the abdomen, hips, thighs, arms, and back.
Liposuction alone can have excellent results but it is often combined with other procedures for more extensive body contouring.
Unique and Specialized Areas of Plastic Surgery

Brazilian butt lift is another popular procedure at the Naderi Center. During this procedure, fat cells are taken from a donor area of the body, usually the abdomen or thighs, and transferred to the buttocks to create a fuller, more curvaceous shape. It is important to note that Brazilian butt lifts are not the same as butt implants, which are placed directly into the muscle and can be a more risky surgery.
For patients that don't have enough fat to transfer, Dr. Anderson might recommend filler injections (Sculptra) to augment the buttocks instead. This is less invasive but requires follow-up treatments for maintenance.
For patients looking for vaginal rejuvenation, Dr. Anderson is an expert in labiaplasty procedures. During this procedure, she will trim excess tissue from the labia minora and/or labia majora to create a more aesthetically pleasing shape and reduce discomfort due to large, misshapen, or asymmetrical labia. Most patients report improved confidence and comfort after this procedure.
Contact The Naderi Center
Dr. Erica Anderson was named a Top Doctor for 2023 by Northern Virginia Magazine. Her dedication to patient care and experience in breast augmentation, tummy tuck, liposuction, Brazilian butt lift, and labiaplasty procedures allows her to provide her patients with the highest quality of care.
Contact The Naderi Center for Plastic Surgery & Dermatology today and schedule a consultation to start your journey with Dr. Erica Anderson, a true breast and body plastic surgery specialist.